Widening the Circle: Experiments in Christian Discipleship (Paperback)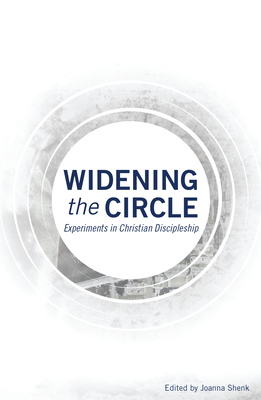 $14.99

Available in our Warehouse: Usually Ships in 3-8 Days
Description
---
Contributing Authors
Vincent Harding is Professor Emeritus of Religion and Social Transformation at the Iliff School of Theology in Denver, Colorado. He is chairperson of the Veterans of Hope Project, which he founded in 1997 with his late wife, Rosemarie Freeney Harding. As longtime activists and teachers, the Hardings began their work in the Mennonite Church in Chicago, Illinois, in the late 1950s and moved to Atlanta, Georgia, in 1961 to join with Martin Luther King Jr. and others in the southern freedom movement. In ensuing years, the Hardings served as scholars, advisors, and encouragers for a wide variety of movements, organizations, and individuals working for compassionate social change in the United States and internationally. Before coming to Iliff, Vincent had taught at Spelman College, Temple University, and the University of Pennsylvania. His essays, articles, and poetry have been published in books, journals, and newspapers. Three of his most recent books are: Hope and History: Why We Must Share the Story of the Movement; Martin Luther King: The Inconvenient Hero; and We Changed the World, a history of the freedom movement for young people. There is a River, his classic history of the early black struggle for freedom in America, has been in print for three decades.
For over forty years, in national and international contexts, Rosemarie Freeney Harding was an activist for peace, justice, and racial reconciliation. Beginning in the southern freedom movement in the early 1960s as an associate of the Mennonite Central Committee, Rosemarie worked as an organizer, educator, historian, social worker, and counselor for a wide range of religious, community, and educational organizations. In her later years, as she continued to organize and teach, she also maintained a private bodywork and counseling practice that integrated Feldenkrais, Therapeutic Touch, and traditional African American spiritual healing modalities. Rosemarie held a master's degree in women's history, a master's degree in clinical social work, and, with her husband Vincent, was cofounder and cochairperson of the Veterans of Hope Project at the Iliff School of Theology in Denver, Colorado. Rosemarie passed on in 2004. "Mennonite House" is a chapter from her memoir, Remnants, cowritten with her daughter, Rachel Elizabeth Harding.
Rachel Elizabeth Harding is a historian and writer whose work focuses on religions of the Afro-Atlantic diaspora. She holds a PhD in history and an MFA in creative writing, and is author of numerous published essays and a book on Afro-Brazilian religion, A Refuge in Thunder: Candombl and Alternative Spaces of Blackness. Rachel served as a consultant and featured scholar in the PBS series This Far by Faith, on African American spiritual traditions. She is also a poet and has published work in Callaloo, Chelsea, Feminist Studies, The International Review of African American Art, Hambone, and several anthologies. She teaches in the Ethnic Studies Department at the University of Colorado Denver.
Sally Schreiner Youngquist is a current community leader of Reba Place Fellowship, where she has been a covenant member since 1973. She has worked as a high school English teacher, a Mennonite Central Committee administrator, a conference planner, communications manager for the Seminary Consortium for Urban Pastoral Education (SCUPE), and a Mennonite pastor at Reba Place Church and Living Water Community Church. Besides nurturing community, she enjoys reading, walking, and being a grandparent.
Celina Varela directs the intern program at Reba Place Fellowship in Evanston, Illinois, and occasionally preaches at Reba Place Church, a member of the Illinois Conference of Mennonite Church USA. She moved to Evanston in 2006 after graduating from Truett Theological Seminary in Waco, Texas. Celina enjoys gardening, singing, and theological discussions with her husband, Peter.
Regina Shands Stoltzfus was born and raised in Cleveland, Ohio, and currently lives in Elkhart, Indiana. She and Art Stoltzfus are the parents of four children: Matthew, Danny, Rachel, and Joshua. Regina has served as an associate pastor at Lee Heights Community Church in Cleveland, and as a campus pastor at Goshen College. She currently teaches at Goshen College in the Peace, Justice, and Conflict Studies and the Bible, Religion, and Philosophy departments. She has a BA in English from Cleveland State University, an MA in Bible from Ashland Theological Seminary, and is currently a doctoral student at Chicago Theological Seminary. Regina is one of the cofounders of Damascus Road, an antiracism education and organizing program.
Hedy Sawadsky lives in the midst of fruit orchards in the picturesque village of Vineland, Ontario. She enjoys hiking and biking, even to the First Mennonite Church, where as a child she first learned the Beatitudes. Half a lifetime ago, while living near Shepherds' Fields in Bethlehem, she began creating petal cards with Holy Land flowers. It's still one of her favorite hobbies.
Andr Gingerich Stoner and his wife, Cathy, have four school-aged children. They live in the Near Northwest Neighborhood of South Bend, Indiana, as intentional neighbors with several other households gathering regularly for meals and prayers and sharing cars, tools, childcare, and daily life. Andr worked with Mennonite Central Committee from 1984 to 1991 on two peace assignments in West Germany, including relating to U.S. military personnel at a large nuclear weapons base. He served as Pastor of Missions at Kern Road Mennonite Church in South Bend for sixteen years. He presently serves as Director of Holistic Witness and Interchurch Relations for Mennonite Church USA. He is a graduate of Swarthmore College and Associated Mennonite Biblical Seminary.
Since 1979, Peter and Mary Sprunger-Froese have been Mennonite peace activists with an ecumenical community in Colorado Springs. They work with homeless people, refugees, and nonviolence seekers. They find the Anabaptist story deeply sustaining in their Christianized military setting.
Dawn Longenecker was born in 1958 into a Mennonite family. She married Jim Rice in 1982 and they have two children, Jessica (age 25) and Adam (age 22). Dawn attends Hyattsville Mennonite Church in Maryland and lives in Mt. Rainier, Maryland. She works with the Church of the Saviour in Washington, D.C., directing their Discipleship Year Program. She is a member of a Spiritual Support Group focused on dismantling racism and founded by Church of the Saviour.
Tim Nafziger enjoys gathering with people who share values to work and talk together. One such gathering of people is Christian Peacemaker Teams, where he works as Outreach Coordinator. Another is the blog Young Anabaptist Radicals, where he is administrator. He also designs websites, writes, and takes photographs of small and beautiful corners of creation. He lives with his wife, Charletta, beside Lake Michigan in the Rogers Park neighborhood of Chicago, where they attend Living Water Community Church.
Since its founding in 1989, James Nelson Gingerich has provided medical care and helped lead the staff at Maple City Health Care Center, a communitybased, not-for-profit organization working with neighbors to enhance the health of people in north-central Goshen, Indiana (for more, see www.mchcc.com). This chapter is distilled from a talk James gave in 2008 as Theological Center Guest at Associated Mennonite Biblical Seminary, Elkhart, Indiana; it is available at www.mchcc.com/en/talk/jamess-seminary-talk-2. In 2006 he received the Dorothy Richardson award for resident leadership from NeighborWorks America, for his work with the health center. James is a 1980 graduate of Goshen College, a 1985 graduate of the University of Chicago Pritzker School of Medicine, and a 1988 graduate of the family medicine residency program at St. Francis Hospital, Beech Grove, Indiana. He and his wife, Barbara Nelson Gingerich, are the parents of two young adult sons, Jonathan and Daniel. James is a member of Eighth Street Mennonite Church in Goshen. He enjoys praying with neighbors every weekday morning from Take Our Moments and Our Days: An Anabaptist Prayer Book, and sharing a weekly eucharistic meal with friends. His interests include beekeeping, baking bread, weaving, singing from shape-note songbooks, typesetting music, leading congregational singing, and bookbinding.
Sarah Thompson is a 2002 graduate of Bethany Christian High School, the Mennonite high school in Goshen, Indiana. Resisting church community pressure to attend a Mennonite college, she chose Spelman College in Atlanta, Georgia, and subsequently got involved in a range of Anabaptist faith-inspired activities (such as eco-feminist anti-war mobilization) while deepening her identification as a U.S. American woman of color. Church involvements include her six years of volunteer work as the North American representative to Mennonite World Conference's Youth and Young Adult Executive Committee and Global Youth Summit Planning Group, as well as service with Mennonite Central Committee and Christian Peacemaker Teams. She returned home to Elkhart to participate in local community organizing and attain a Master of Divinity degree from Associated Mennonite Biblical Seminary, which she completed in 2011.
Bert Newton is one of the founding members of the Urban Village community in Pasadena, California. By day he works in a public mental health program that houses and stabilizes mentally ill adults who have ended up homeless or in jail. By night he organizes for peace and justice and writes liberationist biblical reflections.
Mark Van Steenwyk is a cofounder of Missio Dei, a Mennonite int.