Never Stop to Think... Do I Have a Place for This (Hardcover)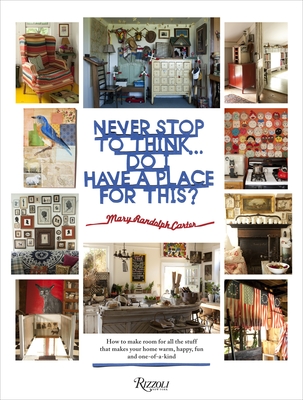 Description
---
In an age of picture-perfect interior design, best-selling author Mary Randolph Carter celebrates her highly personal and creative approach to decor, illustrating how to live stylishly with the many items you want to treasure forever. Mary Randolph Carter's newest book indulges our desire to surround ourselves with belongings that impart beauty and meaning to our lives. Whether you are passionate about flea market thrifting, have a collection of pedigreed antiques, or simply find inspiration among the castoffs in your attic, this book is a tribute to making artful interiors with your acquisitions.

With her trademark style and love of heirlooms and beautiful old objects, Carter delves into the interiors of real-life tastemakers (antique dealers, fashion designers, artists, and boutique owners) to explore how our homes are the perfect canvas for our self-expression. In these pages, Carter curates a variety of unique interiors, from a couple who restores and displays antique textiles and china to an anglophile with an incredible library of vintage books to an artist who lives with the old photos and maps he uses in his work to an antique dealer known for having multiples of everything. Carter muses delightfully on the universal desire to acquire while imparting her philosophy and tips for living creatively and integrating our passions stylishly into our decor. Chock-full of ideas and inspiration, this book exalts in the beauty of bounty and is sure to delight Carter's legions of fans.
About the Author
---
Mary Randolph Carter is an author, photographer, designer, and longtime creative director for Ralph Lauren. She is the author of A Perfectly Kept House is the Sign of Misspent Life, For the Love of Old, and the Junk books, a series of books on discovering and using flea market and antique finds to bring something new to interior design.
Praise For…
---
"Mary Randolph Carter's newest book Never Stop to Think…Do I Have a Place for This? indulges reader's desire to surround themselves with belongings that impart beauty and meaning to their lives and interiors. Whether one has a passion for flea market thrifting, a collection of pedigreed antiques, or simply finds inspiration among "castoffs" in the attic, this book is a tribute to making artful interiors with special finds." -Editor at Large