Life Along The Hudson: The Historic Country Estates of the Livingston Family (Hardcover)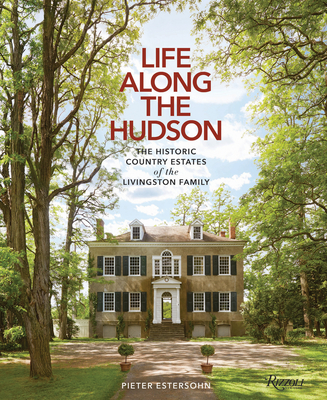 Description
---
This gorgeous oversized tome features thirty-six sublime country homes, many overlooking the Hudson River.

This scenic stretch of estates along the Hudson offers some of the finest examples of American architecture and landscape design. The edition's thirty-five featured homes were designed in a range of styles by notable architects Stanford White, A. J. Davis, Calvert Vaux, Warren and Wetmore, and more. All pair exquisite interiors with expansive lush lawns and riverfront views. Formerly country homes for eighteenth-century landed gentry and nineteenth-century industrialists--Astors, Chanlers, Chapmans, Delanos, Roosevelts--they include Dutch colonial cottages and grand Gothic Revival, Federal, Georgian, and Beaux-Arts residences. Constructed on land owned by the influential Livingston family, who settled in the area in the late seventeenth century, many have been restored to their former splendor by the original owners' descendants as well as recent leaders of New York City industry and the arts, including Richard Jenrette and Brice Marden.
About the Author
---
Pieter Estersohn is a leading photographer of architecture and interiors. His work regularly appears in major shelter magazines, including Architectural Digest, and he has contributed to many interior design and lifestyle books, among them Charlotte Moss's Rizzoli publications. He is the author of Kentucky: Historic Houses and Horse Farms of Bluegrass Country. He is also on the boards of the Historic Red Hook Advisory Council and Cleremont Historic site, and belongs to the Edgewood Club in Tivoli, New York, founded in the 1880s by the original owners of many of the homes in Life Along the Hudson.

John Winthrop "Wint" Aldrich, a Livingston descendant, resides in Rokeby, a 200-year-old stucco mansion in the Hudson River landscape district. He was the former New York State Deputy Commissioner for Historic Preservation.
Praise For…
---
"You might think that a book dedicated to the houses of one New York family would be rather slim, but when dealing with the vast genealogy of the Livingstons it means a 336-page deep dive into more than thirty-five estates. Estersohn, an architecture and interiors photographer, not only shot the character-rich spaces but poured through archival materials to compile histories for each of the properties." —Brownstoner