Eden Revisited: A Garden in Northern Morocco (Hardcover)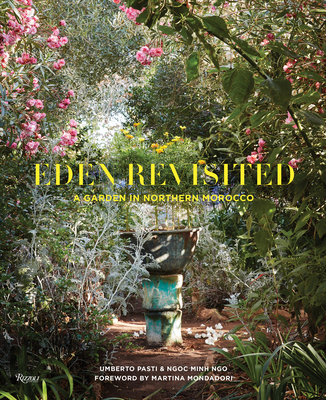 $55.00
Available in our Warehouse: Usually Ships in 3-8 Days
Description
---
A lovingly photographed tour of internationally renowned writer Umberto Pasti's famous hillside garden in Morocco.

Italian writer and horticulturist Umberto Pasti's passion for the wild flora of Tangier and its surrounding region led him to create his world-famous garden, Rohuna, where he has transplanted thousands of plants rescued from construction sites with the aid of men from the village.

Planted between two small houses is the Garden of Consolation: a series of rooms and terraces with lush vegetation, some rendering homage to the paintings of Henri Rousseau, others inspired by invented characters. Surrounding the Garden of Consolation are the Wild Garden and a hillside devoted to the wild flowering bulbs of northern Morocco, where indigenous species of narcissus, iris, crocus, scilla, gladiolus, and others bloom. With its stunning vistas and verdant fields, Rohuna is a garden of incomparable beauty with the mission to preserve the botanical richness of the region. Captured here in detail by celebrated photographer Ngoc Minh Ngo, the poetic beauty of this special and unique place is lovingly rendered for all the world to see and share.
About the Author
---
Ngoc Minh Ngo is a celebrated photographer and the author of two books. Ngoc's images have been published in publications such as T Magazine, Architectural Digest, Cabana, and House & Garden UK.
Umberto Pasti is a well-known Italian writer and horticulturalist.
Martina Mondadori Sartogo is the founder of Cabana magazine and is the European editor at large for Town & Country magazine.
Praise For…
---
"For 20 years, Italian writer and horticulturist Umberto Pasti has been rescuing plants...and transported them back to...Rohuna, a verdant haven where every corner tells a story... Photographer Ngoc Minh Ngo's portraits of the garden evoke its personality with kaleidoscopic vim." —Beatrice Hodgkin, Financial Times
 
"It is easy to slip into a dream-like state with this book, which provides a poetic portrait of Umberto Pasti's garden in Tangier. His dedication to preserving the region's plant species is inspiring, and Ngoc Minh Ngo's photographs will leave you longing for warmer climes." —Elizabeth Metcalf, House & Garden

"...barely an hour from Tangier's outer reaches, Berber women trot by on their mules, wrapped against the sun in red-and-white striped mendil cloths and shaded with vast straw hats. A shepherd wearing a rose-colored djellaba over his jeans scatters goats on the pitted, stony track that rises steeply...an Edenic landscape of plunging hills and valleys, ringing with goat bells and the distant crashing waves of the Atlantic... 'Every year we have two or three species that disappear.' [Umberto Pasti] explains of the flora lost to developments. An additional 180 or so are threatened – a sad fate for a landscape that once had one of the highest concentrations of flowers on the Mediterranean coast... Before an imposing new sports stadium was constructed over fields of native Iris tingitana, for example, Pasti and his team spent 'three winters in the mud' salvaging the bulbs that now blanket the hillside in a wash of Matisse blue every January and February...The gardens, which now showcase  some 800 species, are exquisitely revealed in a new book, Eden Revisited: A Garden in Northern Morocco, with photographs by Ngoc Minh Ngo...[who] traveled a dozen times to document the place through the seasons. 'I think Ngoc loves this garden as much as I do,' says Pasti." —Hamish Bowles, Vogue 

"Morocco has no shortage of great gardens...But...If you would rather immerse yourself in plantings that capture the mesmerizing, magical wildness of the North African soul and topography, you can do no better than to crack the binding of Eden Revisited: A Garden in Northern Morocco (Rizzoli), containing musings by Umberto Pasti and photos by Ngoc Minh Ngo. The book is a love letter to the property in Rohuna, a tiny village of 500 people on the coast between Tangier and Asilah...Ngo's ravishing photography is clearly less concerned with documenting a landscape — although she accomplishes this admirably — than with taking the reader on a lyrical journey through mists, golden light, pools of cool shade and glaring sun so bright it blurs the contours of plants and flowers. Her eye is exquisitely attuned to surroundings and conditions that help illustrate not just what has been planted but how it feels to be in a place where numberless species thrive.
But this is also a garden book written by an accomplished storyteller...Pasti weaves a rich tapestry of myth and remembrance. He creates imaginary characters and fictional histories for the individual gardens, terraces and plants found in this eden...Pasti's description...encapsulates the mystical quality suffusing the property as a whole, humming through it like the millions of creatures that crawl and slither under the earth." —Jorge Arango, 1stdibs

"Eden Revisited is a poetic and dazzling work. New York photographer Ngoc Minh Ngo takes pictures that make you feel you are in the garden, or that you might touch or smell a flower. The author's descriptions are magical and passionate... The Eden of Rohuna is something beyond fashion; of course it is ravishing, but more importantly, the place contains the seeds of ideas about garden making that matter more than any precept about taste or style." —The Telegraph

"Morocco is a country of delicious sights, from elaborately tiled walls to colorful goods sold in souks to lush gardens that defy the desert climate. Of that last category, one of the most dazzling is the world-famous Rohuna, cultivated by Italian writer and horticulturist Umberto Pasti in the countryside overlooking the Atlantic some 40 miles south of Tangier... The result is not only a snapshot of the diverse landscapes of Morocco, but also a glimpse into the mind of Pasti."
—AD.com

"In the redolent photographs of Ngoc Minh Ngo, you can feel the shimmering heat of the baking sun, smell the rich Gardenia thunbergia, become dizzy at the sprawl of red poppies. Those of us enduring frozen winters in the north crave just such magic." —Dominique Browning, New York Times Book Review
We appreciate your continued support!
If you would like to make a donation to help us through CLICK HERE.