The Perfect Kitchen (Hardcover)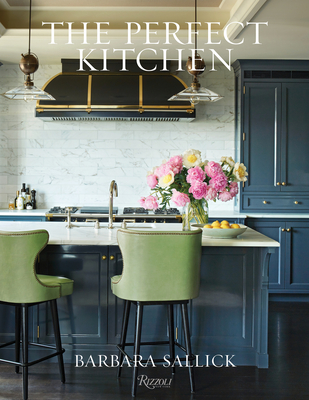 Description
---
A chic, polished guide to creating your dream kitchen from the cofounder of Waterworks, with hundreds of images and practical advice.

The kitchen is the heart of the home, the destination of every party, everyone's favorite gathering spot, where style and functionality must go hand in hand. Designing a kitchen is a vastly complicated affair, involving an array of appliances (movable and fixed) and storage zones, not to mention addressing the kitchen's role as a multifunctional social arena to be used from very early in the morning until late into the night. Creating a timeless, high-functioning space is daunting indeed. Where is one to begin?

In The Perfect Kitchen, Waterworks cofounder Barbara Sallick explores the process of designing a kitchen in great and beautiful detail, from surfaces and finishes to storage, cabinetry, and hardware. The book is enriched by dozens of images of kitchens by esteemed designers such as Steven Gambrel, Gil Schafer, and Suzanne Kasler; essays by top food icons including Julia Turshen and Melissa Clark about their own kitchens; and important, how-to advice.

Combining evocative, informative photography with an authoritative, engaging narrative, The Perfect Kitchen is an essential, lasting resource that will appeal to discerning homeowners and professionals alike looking for upscale visual inspiration and design advice.
About the Author
---
Barbara Sallick is the cofounder of Waterworks and its Senior Vice President of Design. As the Waterworks spokesperson, she presents design and product lectures across the U.S. and internationally. She is the author of three books: The Perfect Bath, The Definitive Guide to Designing the Perfect Bath, and Waterworks: Inventing Bath Style.
Praise For…
---
"If you own Barbara's The Perfect Bath, you know that you are in for a treat with her latest book, The Perfect Kitchen.  It is absolutely beautiful and oh so helpful!" —SPLENDID SASS 

"Sallick, who co-founded the luxury kitchen-and bath-furnishings emporium Waterworks, has created the ultimate design handbook for the most important room in the house." —MOSAIC MAGAZINE 

"Whatever their workaday origins, today's sculleries are definitely "upstairs" affairs, with most bearing little resemblance to the humble service quarters of centuries past. In her forthcoming book, "The Perfect Kitchen" (Rizzoli),Barbara Sallick, co-founder and vice president of design for Waterworks, points out that you never see kitchens in books about Dorothy Draper and other early 20th- and midcentury American decorators, mainly because—as the domain of housekeepers, cooks and other "scullery maids"—they were never meant to be seen by the public. "Now, though, we're seeing the design of these rooms being deeply considered as part of a home," she explained."
—WALL STREET JOURNAL 

"In her upcoming book The Perfect Kitchen (out on March 24th), Barbara Sallick, co-founder and SVP of Design at Waterworks, spills the beans on a room that is perhaps the most loved and used but also the most complicated to design." —SCHUMACHER BULLETIN 

Since cofounding Waterworks, a high-end hardware company, in 1978, [Sallick]'s gathered more than 40 years of experience in the reno world. Next week she launches her second book, The Perfect Kitchen, a guide to help anyone dream up their perfect workspace. "It's about so much more than cabinetry and appliances," explains Sallick. "It's the most communal room, and it has a unique kind of gravitational pull." —DOMINO

"...a book that looks seriously at a number of architect-designed spaces for cooking, gathering and preparation." —ARCHITECTS + ARTISANS 

"Design icon, author and co-founder of Waterworks, Barbara Sallick, is getting ready to release her second book—The Perfect Kitchen—a robust collection of stunning kitchens, designed by the world's top talent. Not just a great resource for inspiration and visual splendor, the book also provides practical advice on how to design a dream kitchen. " —CALIFORNIA HOMES & DESIGN 

"If you truly want to create your dream kitchen, don't miss this book by design icon Barbara Sallick." —MODERN LUXURY INTERIORS SOUTH FLORIDA
We appreciate your continued support!
If you would like to make a donation to help us through CLICK HERE.