A Year at Clove Brook Farm: Gardening, Tending Flocks, Keeping Bees, Collecting Antiques, and Entertaining Friends (Hardcover)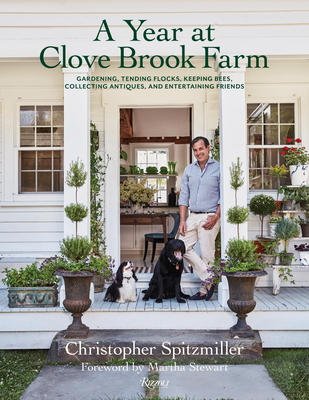 Description
---
Welcome to a year of sustainable living with renowned ceramicist Christopher Spitzmiller, with advice and inspiration for seasonal entertaining, gardening, tending heritage chickens, and more.

Christopher Spitzmiller is known to his many friends and Instagram fans as the ultimate weekend farmer, who raises his own chicks, grows his own flowers, and puts up his own jam, cider, and honey. In his first book, he treats readers to a full year at his country retreat, Clove Brook Farm. Organized into four sections by season, the book begins with spring: the lilacs and appleblossoms, the dovecote with Indian fantail pigeons, Easter lunch, with daffodils and porcelain, and Spitzmiller's recipe for rhubarb pie. Summer brings hydrangeas, dahlias, readying the chickens for the Dutchess County Fair, and a garden cocktail party. Fall focuses on collecting, cider making, an orchard luncheon and a Thanksgiving table, honey-gathering, and planting bulbs. Winter closes the book with holiday decorating, gilding allium, a holiday buffet, and homemade gifts.

Filled with tips on creating beautiful seasonal flower arrangements, living with animals, and garden planning, this is a wonderful resource and gift for anyone longing for farmstead living.
About the Author
---
Christopher Spitzmiller's lamps, tableware, and other ceramics are found in every chic A-list interior, including the White House, and featured in celebrated publications including Architectural Digest and the Wall Street Journal. He is on the board of the Garden Conservancy and the Lenox Hill Neighborhood House. Martha Stewart is the founder of Martha Stewart Living Omnimedia, and the author of many, many books.
Praise For…
---
"In his literary debut, top tastemaker and lamp-designing luminary Christopher Spitzmiller chronicles sustainable living as a weekend farmer and flower cultivator, organized in four seasonal chapters."
—MODERN LUXURY INTERIORS 

"Divided into four seasons, the book offers advice, information and inspiration on everything from cooking and baking...to planting bulbs, living with animals, flower arranging, stylish entertaining and much more!" —QUINTESSENCE.COM

"Best New Design Books roundup: Spend A Year at Clove Brook Farm and witness the seasons shift at the Dutchess County, New York, estate of ceramist and gardener extraordinaire Christopher Spitzmiller." —ELLE DECOR.COM 

"Though he makes it seem effortless, a tremendous amount of thoughtful research, intense planning, and actual sweat and tears go into each undertaking, and his knowledge, whether related to pottery, cooking, gardening, or animal husbandry, is clearly reflected in the completed projects. I have enjoyed following the thousands of steps Chris took to conceptualize, create, and finally realize this beautiful book and the life depicted herein, and I am looking forward to the next great steps he takes in whatever directions his insatiable curiosity and hard work take him." — Martha Stewart

"Christopher's book captures the essence of Clove Brook Farm and the beautiful life he has created there. I cannot escape the feeling that I have discovered a kindred spirit. Christopher and I share so many passions, from raising chickens to our love of design, gardens, and flowers, and the knowledged that mother nature holds so many lessons and surprises." —Carolyne Roehm

"There are few more enchanting places than Clove Brook Farm and now Christopher Spitzmiller shares his home, his gardens, his chickens, and his lifestyle with you. Not only is this a beautiful book but the reader will come away with a richness of information that will make you want to mark up every page. You will need two copies." — Bunny Williams
We appreciate your continued support!
If you would like to make a donation to help us through CLICK HERE.