Richard Serra: Transmitter (Hardcover)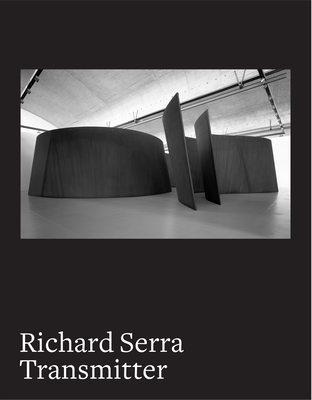 $100.00
This item is not currently available to order.
Description
---
This lavishly illustrated volume documents the first public presentation of a recent monumental sculpture by Richard Serra, one of the most significant artists of his generation.

Richard Serra has produced large-scale sculptures for architectural, urban, and landscape settings spanning the globe. This volume, published to coincide with a 2021–22 exhibition at Gagosian Le Bourget in Paris, presents a recent sculpture by the artist: Transmitter (2020). Made of weatherproof steel, Transmitter is monumental in scale, measuring approximately 4 meters in height and 18 meters in width and length. Here, immersive installation views of the sculpture within the vast exhibition space of Gagosian Le Bourget in Paris are accompanied by plate photography of fourteen recent works on paper by the artist. A new text by art historian Maria Stavrinaki (in English and French) reads Serra's long sculptural practice through three formal, temporal, and political moments.

Richard Serra was born in 1938 in San Francisco, and lives and works in New York. His work is held in major museum collections around the world. Since 1983, Gagosian has presented thirty-seven exhibitions of Serra's work in the United States and Europe.
About the Author
---
Maria Stavrinaki is Associate Professor of Art History and Theory at the Université Paris I, Panthéon-Sorbonne. She has worked extensively on the art of the 20th century and is particularly interested in questions of time and history in modernity, working at the crossroads of artist practices and discourses, the construction of the human sciences, and political questions. Her most recent book is Saisis par la préhistoire: Enquête sur l'art et le temps des modernes (2019), translated into English by Zone Books (Transfixed by Prehistory: An Inquiry into Modern Art and Time, 2022). She co-curated the exhibition Préhistoire: Une énigme moderne at the Centre Pompidou, Paris (2019), and is currently preparing an exhibition on art in the atomic age for the Musée d'Art Moderne de Paris (2024).