Blondie Unseen 1976-1980 (Paperback)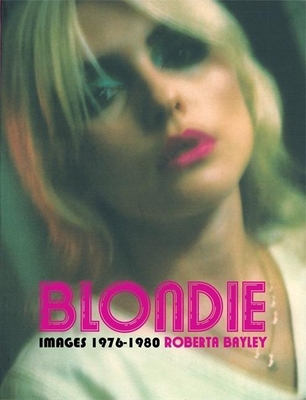 $24.95
This item is not currently available to order.
Description
---
This stunning visual memoir portrays a unique period in music and fashion. Shot by Roberta Bayley, one of the New York punk scene's most prominent photographers, the photographs chronicle the band from its earliest days, performing before hard-to-please crowds at Max's Kansas City and CBGB's, to global superstardom at the end of the 1970s. At every stage, Bayley was present to record Blondie's swift, dramatic rise to the top. Featuring 235 candid photographs, many previously unpublished, Blondie Unseen 1976-1980 offers a fly-on-the-wall visual perspective of life with the band during these tumultuous years. Bayley's talent for being in the right place at the right time ensures that her photographs capture the truth of the moment in a dramatic and revealing manner. The images, enhanced and complemented by Bayley's own first-hand descriptions, provide an inimitable evocation of one of pop culture's most creative and exciting periods.
Praise For…
---
"The zenith of the band can be seen again in photographer Roberta Bayley's Blondie: Unseen 19761980. Covering the band from their CBGB gigs to their global success, the book features a nostalgic handwritten foreword by Debbie Harry and many unseen images." Mojo

"From their very early days at Max's Kansas City and CBGB's, Roberta captured the band at work and play. This book documents those days, offering as much an insight into the life of Debbie herself as into this unique period of music and fashion." I-D

"Debbie Harry goes from beautiful girl next door to stunning, glamorous new wave pin-up across 137 pages. Whether she's fashioned a zebra print dress out of a pillowcase from the rubbish, or wearing more available-to-the-average-girl clothes at Max's Kansas City in 1976, she's always had 'the look'." Record Collector

"This fantastic book is a photographic memoir of Debbie Harry's Blondie at their most exciting and important . . . These incredible pictures capture the whirlwind of activity and excitement surrounding Blondie in these explosive times. Throw in introductions by both Harry and Bayley and you have one of the most insightful and artistic portrayals of a punk and pop icon you're likely to come across. Stunning . . . a must have for Blondie fans." Writers' News

"An unseen photo-story shows the late70s New York rock scene in a fresh light in Blondie Unseen 19761980." Dazed Confused

"Sometimes crazy, frequently sexy and impossibly coolDebbie Harry was the perfect subject for Roberta Bayley, legendary photographer of the New York punk scene." The Sunday Telegraph