Bad Men & Bad Towns (Nebraska) (Paperback)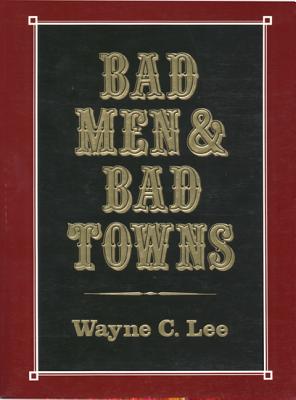 $14.95
This item is not currently available to order.
Description
---
The Nebraska state's history is full of stories about violent feuds between settlers and landowners, native people and soldiers, con-artists and bandits. This book chronicles the violent history of the Nebraska Territory.
About the Author
---
Wayne C. Lee is the authoir of dozens of books detailing the history of the settlement of the plains states. A longtime resident of the region, he was the author of more than a dozen books about the people and events that described the legendary lawlessness of the unsettled plains.
Praise For…
---
"Frontier days were rugged in early Nebraska. Master storyteller Wayne Lee Chronicles the violence of its people and towns from 1823 to 1925. Bad Men & Bad Towns delves into bizarre and brutal incidents which occurred in some tiny towns and previously ignored regions. From the time of the earliest pioneers, there existed a tug-of-war for space and resources. Native Nebraskans, the Indians, were trying to hold onto their homes and hunting grounds. Their methods for discouraging the influx of Easterners made for some ghastly, gory tales. Yet, the violence of the region cannot be attributed solely to it''s original inhabitants. Homesteaders grappled for their claims on the land, often with surprising vengeance. Farmers, ranchers, and trappers disputed land uses and boundaries, sometimes employing uncivilized means of persuasion. Entrepreneuring shysters and brazen bandits contributed their disorderly share. And always, there was the threatening presence of clandestine vigilante justice. In Bad Men & Bad Towns, Lee''s commanding grasp of history is combined with a colorful storytelling style to paint a portrait of Nebraska''s frontier days. Bad Men & Bad Towns is a valuable contribution to American West collections."—Midwest Book Review

"Wayne C. Lee''s Bad Men and Bad Towns chronicles is all from the rowdy 1823 to 1925 years in Nebraska. It''s a western work of art detailing the clash between the natives and the settlers."—Book Review