Innocents on the Ice: A Memoir of Antarctic Exploration, 1957 (Paperback)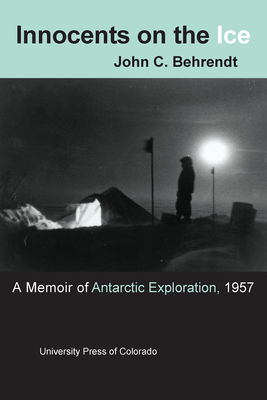 $23.95
This item is not currently available to order.
Description
---
"Adventures in the Antarctic only happen when someone makes a mistake."
—From the Preface
In 1956, John C. Behrendt had just earned his master's degree in geophysics and obtained a position as an assistant seismologist in the International Geophysical Year glaciological program. He sailed from Davisville, Rhode Island to spend eighteen months in Antarctica with the IGY expedition as part of a U.S. Navy-supported scientific expedition to establish Ellsworth Station on the Filchner Ice Shelf.
Innocents on the Ice
is a memoir based on Behrendt's handwritten journals, looking back on his daily entries describing his life and activities on the most isolated of the seven U.S. Antarctic stations.
  Nine civilians and thirty Navy men lived beneath the snow together, and intense personal conflicts arose during the dark Antarctic winter of 1957. Little outside contact was available to ease the tension, with no mail delivery and only occasional radio contact with families back home. The author describes the emotional stress of the living situation, along with details of his parties' explorations of the Filchner-Ronne Ice Shelf system during the summers of 1957 and 1958. Along the hazardous 1,300-mile traverse in two Sno-Cats, the field party measured ice thickness and snow accumulation as part of an international effort to determine the balance of the Antarctic ice sheet, and made the first geological observations of the spectacular Dufek Massif in the then-unexplored Pensacola Mountains. Behrendt also draws upon his forty years of continual participation in Antarctic research to explain the changes in scientific activities and environmental awareness in Antarctica today.
  Including photos, maps, and a glossary identifying various forms of ice,
Innocents on the Ice
is a fascinating combination of the diary of a young graduate student and the reflections of the accomplished scientist he became. 
About the Author
---
John C. Behrendt is an internationally known scientist who has made 12 trips to Antarctica and traveled there in every decade since the 1956-58 International Geophysical Year expedition described in Innocencts on the Ice. He returned to the Weddell Sea and the Filchner Ice Shelf in 1958-59, and made pioneering aerogeophysical surveys over the Transantarctic Mountains and the West Antarctic Ice Sheet from 1960-64. In 1960-61 he led an oversnow traverse party to the southern Antarctic Peninsula and the Behrendt Mountains, which were named for him as a result of his work. He also led geophysical research programs for 31 years at the U.S. Geological Survey. Behrendt is currently a FellowEmeritus and Senior Research Associate at the Institute of Arctic and Alpine Research at the University of Colorado.
Praise For…
---
"A richly detailed insider's look at the realities of the last real exploration of the Earth. It shows all the complex glory and trouble of high-tech exploration in the 20th Century: personality conflicts, tensions, pratfalls, and the transcendent experience of setting foot on unknown lands. A fine mix of science, adventure, and human drama."
—Michael Parfit, author of South Light: A Journey to the Last Continent and scriptwriter for the IMAX film Antarctica
"A gripping taleof young scientists pursuing their calling while under the command of a vindictive, paranoid naval officer. Denied radio contact with their stateside mentors, some were threatened with Court Martial for insisting on doing what they were sent to do. Forunately, it is the scientists who triumph over rough water."
—Charles Swithinbank, author of Forty Years on Ice

Behrendt skillfully describes the tension between the scientists' passion for research and their leader's paranoia, which at times threatened to bring the isolated base to the brink of insanity and mutiny . . .  [A] welcome and long-overdue addition to the literature of the continent."
—J. McKimi Malville, author of Prehistoric Astronomy of the Southwest