Plough Quarterly No. 3: Childhood (Paperback)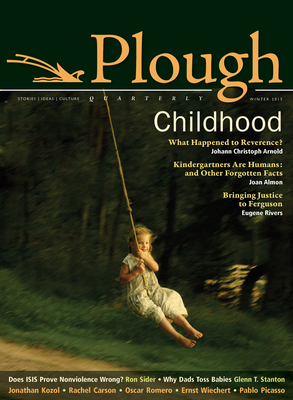 $10.00
This item is not currently available to order.
Description
---
In this issue, we explore why children and childhood are at the heart of the gospel - and of God's plan for restoring the world. Hear from Johann Christoph Arnold on "Discovering Reverence," Joan Almon on "Kindergartners Are Humans," and Glen Stanton on "Why Dads Toss Babies." A surgeon shares what he's learned from children with disabilities, while dispatches from Ferguson, Missouri, the US-Mexico border, and the South Bronx focus on places where childhood is especially threatened. Other contributors examine public, homeschool, and Christian education; highlight the role of fathers; and grapple with Jesus' uncomfortable version of family values. Bold, hope-filled, and down-to-earth, Plough Quarterly features thought-provoking articles, commentary, interviews, short fiction, book reviews, poetry and artwork to inspire everyday faith and action. Each issue brings together essential voices from many traditions to give you fresh insights on a core theme such as peacemaking, biblical justice, children and family, building community, man and woman, nature and the environment, nonviolence, or simple living. Starting from the conviction that the teachings and example of Jesus can transform and renew our world, it aims to apply them to all aspects of life, seeking common ground with all people of goodwill regardless of creed.