Illinois: A History of the Land and Its People (Paperback)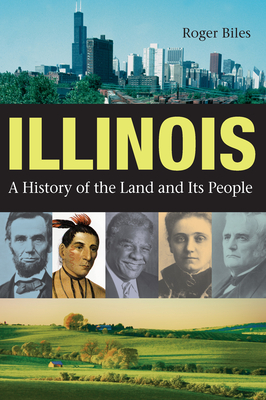 $34.30

Available in our Warehouse: Usually Ships in 3-8 Days
Description
---
Crossroads of the continent, Land of Lincoln, hub of commerce—or, as Charles Dickens viewed it, a landscape "oppressive in its barren monotony"—Illinois boasts a rich and varied past. In this far-reaching but compact history, Roger Biles provides a much-needed, up-to-date account of the state's development, from the early native settlements to the present. Focusing on Illinois's demographic changes over time, he highlights the key figures who contributed to the state's government, economy, culture, and the arts.

While devoting attention to the touchstones of history, Illinois illuminates also the achievements of ordinary people, including the women, the African Americans, and the other minorities who—along with the politicians, the captains of industry, and the military heroes—contributed to the state's growth and prosperity. National events shaped the state as well, and Biles explores the impact of such crises as the Civil War and World War II on the people of Illinois.

No history of Illinois can ignore the state's largest city, the dynamic metropolis on Lake Michigan—Chicago. Drawing on extensive research, Biles illuminates Chicago's past—its outbursts of labor unrest and racial tensions as well as the splendors of two world's fairs and an artistic renaissance—while at the same time relating Chicago to the larger story of Illinois and its people.

Connecting lesser-known stories with the main events of the state's past, Biles writes in an accessible style that is at once entertaining and enlightening. Featuring 67 illustrations, Illinois will captivate readers of all ages and interests.
About the Author
---
Roger Biles, Professor of History at Illinois State University, is the author of five other books, including Richard J. Daley: Politics, Race, and the Governing of Chicago and Crusading Liberal: Paul H. Douglas of Illinois.
Praise For…
---
Award of Excellence, Illinois State Historical Society, 2006
"Biles' first-rate primer on the state's history will be a useful resource for anyone curious about a state whose residents have played crucial roles in almost every major episode in the nation's history."—Chicago Tribune
"Lively and informative.... Biles clearly and cogently traces the Prairie State's distinctive history, from its earliest geological and Indian eras to the present."—The Annals of Iowa
"A scholarly and highly accessible survey text that balances the rural and urban experience."—Journal of the Illinois State Historical Society