A Swedenborg Sampler: Selections from Heaven and Hell, Divine Love and Wisdom, Divine Providence, True Christianity, and Secrets of Heaven (Paperback)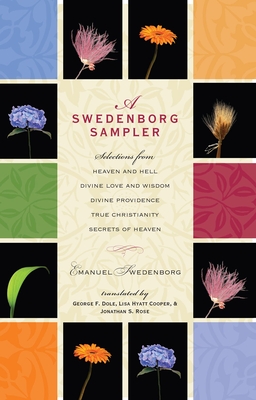 $13.15
This item is not currently available to order.
Description
---
Swedish scientist and theologian Emanuel Swedenborg wrote volumes upon volumes based on the understanding he gained through visits to the spiritual world and from conversations with its inhabitants. For new readers of Swedenborg, knowing where to start and what to read can present an insurmountable task. This volume is a good starting point and provides samples of some of his most powerful writings, now available in new, contemporary translations.

What happens to our souls after we die? What is the afterlife like? What is the nature of God? Of evil? What can we do during our lives to help guide us to heaven? What kinds of answers can we find in the Bible? Selections from some of Swedenborg's most popular works—Heaven and Hell, Divine Love and Wisdom, Divine Providence, Secrets of Heaven, and True Christianity—answer these questions and more.

Ideal for those new to Swedenborg's theology, A Swedenborg Sampler offers tastes from a rich smorgasbord of spiritual insight.
About the Author
---
Emanuel Swedenborg (1688-1772) was a Swedish scientist, nobleman, and theologian who spent his life investigating the mysteries of the soul. Born in Stockholm to a staunchly Lutheran family, he graduated from the University of Uppsala and then traveled to England, Holland, France, and Germany to study the leading scientists of the time. He gained favor with Sweden's King Charles XII, who gave him a position on the board of overseers of the Swedish mining industry. Later, he was granted a seat on the Swedish House of Nobles by Charles XII's successor, Queen Ulrika Eleonora. Between 1743 and 1745 he began to have visions of heaven, hell, and Jesus Christ which resulted in a stream of books about the nature of God, the afterlife, and the inner meaning of the Bible. He devoted the last decades of his life to studying Scripture and presenting his own unique theology to the world.