Timber Press Pocket Guide to Water Garden Plants (Paperback)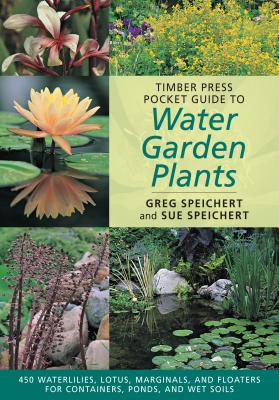 $21.95
This item is not currently available to order.
Description
---
Water is a soothing and delightful addition to any garden, and water features—streams, waterfalls, and bog gardens—continue to be popular design elements in the modern garden. And now, gardeners finally have a practical and handy place to turn for information about water garden plants. In the Timber Press Pocket Guide to Water Garden Plants, gardening gurus Greg and Sue Speichert provide information on a full range of plants that can be used in ponds and wet soils, from the widely popular waterlilies and lotuses to the often-overlooked submerged, floating, and bog plants. The newest edition in the popular pocket guide series focuses on 300 of the best plants for use in large and small water gardens. Each description includes detailed information on choosing, planting, and caring for plants. Notes on cultivation address the question of how much water each plant needs to grow and provide information on cold tolerance and how to overwinter plants. Suggestions for use in the landscape offer design ideas for gardeners of all levels.
About the Author
---
Greg Speichert is a founder of Water Gardening Magazine, and the American Water Garden Society. He writes frequently on water gardening for Fine Gardening,
Praise For…
---
"The definitive guide to water plants for serious gardeners who don't want a giant encyclopedia." —Minneapolis Star Tribune

"Gives information on all aspects of water gardening. . . . Authors Greg and Sue Speichert have provided a valuable resource in a 212-page book." —South Florida Sun-Sentinel

"Takes the best 450 plants from the Encyclopedia of Water Garden Plants and covers them with 300 color photos. It provides the practical information on how to grow the plants in ponds, containers or rain gardens. At only $19, it is a bargain that every gardener with a container, pond or even just a wet spot in the yard ought to own." —Creators Syndicate