Dirr's Encyclopedia of Trees and Shrubs (Hardcover)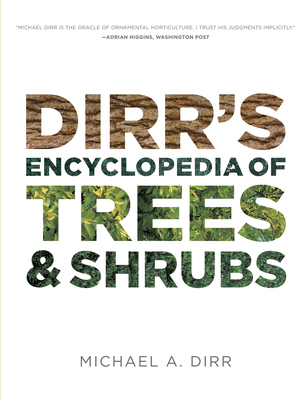 $79.95

Available in our Warehouse: Usually Ships in 3-8 Days
Description
---
3500 photographs. Over 380 genera. More than 3700 species and cultivars.

Dirr's Encyclopedia of Trees and Shrubs is the most comprehensive visual reference to more than 3700 species and cultivars. From majestic evergreens to delicate vines and flowering shrubs, Dirr features thousands of plants and all the essential details for identification, planting, and care. Color photographs show each tree's habit in winter, distinctive bark patterns, fall color, and more. Dirr's Encyclopedia of Trees and Shrubs is a critical addition to any garden library.
About the Author
---
Michael A. Dirr, professor emeritus, horticulture, University of Georgia, is widely acknowledged as one of the leading experts on trees and shrubs for landscapes and gardens. He holds BS and MS degrees in horticulture from The Ohio State University and the Ph.D. from the University of Massachusetts. Dirr has introduced over 200 woody plants to cultivation and holds 29 patents with the UGA Research Foundation. With two partners, he established Plant Introductions, Inc., a breeding and introduction company in 2006, selling it to Bailey Nurseries in 2015. Dirr continues to work in lockstep with the American nursery industry to introduce and promote new trees and shrubs.
Praise For…
---
"Dirr has guided discerning gardeners for decades—he has made the American landscape a better place." —The Washington Post

"Belongs on every serious gardener's shelf. . . . This is a new, spruced-up edition of the bible of the industry, with a cleaner design, wipeable cover, newly introduced plants and changes in plant names. Just in time for a new generation of gardeners, Dirr's encyclopedia is as charming as it is refined." —The New York Times

"Dirr has added another well-written and slickly produced book to his volumes on plants used in ornamental horticulture. Educational as well as inspirational. . . . this is likely to become a standard reference for including trees and shrubs in gardens of all types." —Booklist starred review

"Dirr has been growing and breeding plants for years and has experience with all the plants in this book. . . . There are 15 special topic listings—by flower color, flowering sequence, fall color, winter interest, salt or shade tolerance, moisture requirements, and plant form—which will help gardeners choose plants, as well as indexes of botanical and common names."  —Library Journal

"Michael Dirr's hefty Dirr's Encyclopedia of Trees and Shrubs belongs next to the American Horticultural Society's A to Z Encyclopedia of Garden Plants on your shelf of essential garden books. It is packed with information, features more than 3500 photographs for identification, and is written with wit and charm." —MarthaStewart.com

"For any serious gardener, the expense of this book will be repaid many times over in the valuable advice and information it will impart, page by page and pound by pound." —Country Gardens

"Dirr's frank and often witty assessments make his works all the more special, unique, and fun to read." —American Gardener

"Long regarded as the nation's foremost expert on trees and shrubs, Dr. Dirr has published a new book that, like his previous Manual of Woody Landscape Plants, draws on his encyclopedic knowledge and years of personal experience with trees and shrubs. However, the new book, Dirr's Encyclopedia of Trees and Shrubs, adds thousands of photos to the mix, too." —Better Homes and Gardens

"Professor Michael A. Dirr is THE MAN when it comes to woody plants." —Garden Rant

"Sure to be one of the basic books for a serious gardener. It's a user-friendly, photo packed distillation of the knowledge and informed opinion that make Dirr's text packed 'Manual of Woody Landscape Plants' scripture in the landscape profession." —Chicago Tribune

"Meriting the terms classic, authoritative, gold-standard, this reference updates and combines in one binding two previously published books: Dirr's Hardy Trees and Shrubs and Dirr's Trees and Shrubs for Warm Climates. Several thousand photos of excellent quality and consistency support graceful, well-informed text." —Reference and Research Book News

"Whether you're a landscape designer or architect or just a garden enthusiast, you can't do without either of these (Dirr's Encyclopedia of Trees and Shrubs and the Manual of Woody Landscape Plants) books. The new Dirr Encyclopedia is a sheer delight, and way too long in coming!" —Garden Design Online