From the Inside Out: The Rural Worlds of Mennonite Diarists (Paperback)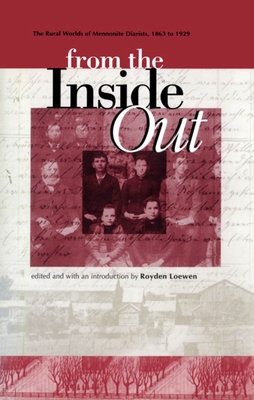 $28.00
This item is not currently available to order.
Description
---
Historian Royden Loewen has brought together selections from diaries kept by 21 Mennonites in Canada between 1863 and 1929, some translated from German for the first time. By skillfully comparing and contrasting a wide cross-section of lives, Loewen shows how these diaries often turn the hidden contours of household and community "inside out."     The writers featured were ordinary rural people: young women and grandmothers, rural preachers and landless householders. They include a teenaged boy who immigrated from Russia to Manitoba in 1875 as well as a successful merchant, a traveling evangelist, and a devout, conservative church elder. An elderly grandfather recounted the daily circuit of his childrenís homes, while 19-year-old Marie Schoeder wrote of her literary aspirations, her "secret hope" that some day she would "write things that have a real worth, things that are worth printing, and things that other folks would love to read and pay for."     From the Inside Out also contrasts diaries from two distinct Mennonite communities in Canada. The Swiss-American Mennonites in Waterloo County, Ontario, faced rapid urbanization, while the Dutch-Russian Mennonites in southern Manitoba maintained their more rural environment. The diaries mirror their writers' preoccupations with work and weather, but they also reveal a community's social structure and round of activities such as weddings, funerals, and worship services.     In the process of diary-keeping, the writers sought to make sense of a dynamic and often unpredictable world. Reading what they chose to record is to learn much about their culture. Their writings provide glimpses of their lives, their collective mindset, and their history as a people.
About the Author
---
Royden Loewen is a professor of history and Chair of Mennonite Studies at the University of Winnipeg. His books include Family, Church and Market: A Mennonite Community in the Old and New Worlds, and From the Inside Out: The Rural World of Mennonite Diarists.