Ice Time: The Story of Hockey (Hardcover)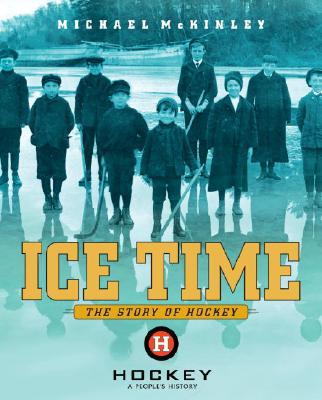 Description
---
Hockey is breathtakingly fast and fascinating. Ice Time: The Story of Hockey (Temps de glace: l'histoire du hockey) traces the sport from its hotly contested origins to the present day's first-ever lockout of players by the one remaining league. It covers the sport's surge in popularity after 1875, when it moved to inside rinks; the rise and fall, and rise again, of women's hockey; the sagas of long-lost leagues, such as the Pacific Coast Hockey Association; and more recently the World Hockey Association. Through its lavishly illustrated pages skate the players, the coaches, and the almost forgotten legends who are the reason why we love the game.

Although the book stands alone, it is based on Hockey: A People's History, a ten-part CBC/Radio Canada series airing in fall 2006.
About the Author
---
The author of Putting a Roof on Winter and The Magnificent One: The Mario Lemieux Story, Michael McKinley is also a journalist, a documentary filmmaker, and a screenwriter. A Vancouver native, he was educated at the University of British Columbia and at Oxford University. His journalism has appeared in England, the US, and Canada, including the Guardian, Sports Illustrated, the Los Angeles Times, and the National Post. He has also written and produced several documentaries for CNN and an episode of South Park.

After studies in Physical Education, Suzanne Lévesque obtained a Bachelor's Degree in German Studies and a Master's Degree in Translation from l'Université de Montréal. She also studied Linguistics at the Universität Saarbrücken, in Germany. Working as a freelancer since 1988, she has translated numerous documents in various fields — administrative, legal, advertising, tourism, etc. — and, on several occasions, juvenile literature for Tundra Books. In her free time, she enjoys playing tennis, cycling, and skiing around Montreal, her hometown.