Catalogus Translationum Et Commentariorum: Mediaeval and Renaissance Latin Translations and Commentaries: Annotated Lists and Guides (Hardcover)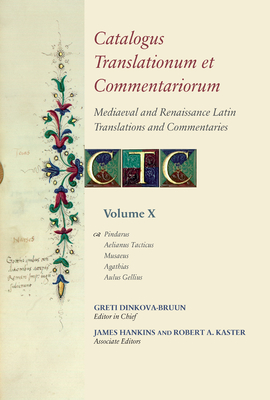 $95.00
This item is not currently available to order.
Other Books in Series
This is book number 10 in the Catalogus Translationum Et Commentariorum series.
About the Author
---
Greti Dinkova-Bruun is a Fellow and Librarian of the Pontifical Institute of Mediaeval Studies, Toronto. She has edited Alexander Ashby's Opera Poetica for the Corpus Christianorum Continuatio Mediaevalis (2004) and The Ancestry of Jesus: Excerpts from ?Liber Generationis Iesu Christi Filii Dauid Filii Abraham? for Toronto Medieval Latin Texts (2005). Her numerous articles have appeared in Mediaeval Studies, Viator, Sacris Erudiri, Mittellateinisches Jahrbuch, and Archives d?histoire doctrinale et litt?raire du Moyen ?ge, among other journals.James Hankins is Professor of History at Harvard University and founder and general editor of the I Tatti Renaissance Library, published by Harvard University Press. The author of a seminal study, Plato in the Italian Renaissance (1990; Italian translation, 2009), he is editor of The Cambridge Companion to Renaissance Philosophy (2007) and (with Fabrizio Meroi) The Rebirth of Platonic Theology (2013), as well as editor and translator of Leonardo Bruni's History of the Florentine People (2001-2007) and editor of Marsilio Ficino's Platonic Theology (2001-2006).Robert A. Kaster is Professor of Classics and Kennedy Foundation Professor of Latin Language and Literature at Princeton University. His books include Guardians of Language (1988), Emotion, Restraint, and Community in Ancient Rome (2005), and editions and translations of Cicero's Speech on Behalf of Publius Sestius (2006), Seneca's On Anger and On Mercy (2010), Macrobius's Saturnalia (2011), and Suetonius's De grammaticis et rhetoribus (1995) and De vita Caesarum (forthcoming).