Harmonic Experience: Tonal Harmony from Its Natural Origins to Its Modern Expression (Hardcover)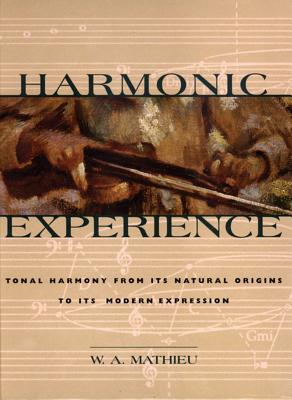 $50.00

Available in our Warehouse: Usually Ships in 3-8 Days
Description
---
An exploration of musical harmony from its ancient fundamentals to its most complex modern progressions, addressing how and why it resonates emotionally and spiritually in the individual.

W. A. Mathieu, an accomplished author and recording artist, presents a way of learning music that reconnects modern-day musicians with the source from which music was originally generated. As the author states, "The rules of music--including counterpoint and harmony--were not formed in our brains but in the resonance chambers of our bodies." His theory of music reconciles the ancient harmonic system of just intonation with the modern system of twelve-tone temperament. Saying that the way we think music is far from the way we do music, Mathieu explains why certain combinations of sounds are experienced by the listener as harmonious. His prose often resembles the rhythms and cadences of music itself, and his many musical examples allow readers to discover their own musical responses.
About the Author
---
W. A. Mathieu is the author of The Listening Book, Harmonic Experience and The Musical Life. He has recorded solo piano music for Windham Hill and other labels. He lives in Sebastopol, California, where he writes and teaches.
Praise For…
---
"Mathieu's books are worth reading for anyone in any field of music--jazz, classical, gospel, or any other. He's found the words to tell the power of music."
— Pete Seeger, folksinger

"This book goes beyond what most textbooks offer, and its highly original pedagogy deserves the attention of every teacher of harmony. Above all, this is a book for anyone who would like to acquire harmony as a lived experience rather than as mere memorization of unyielding rules on paper."
— Chien-Chang Yang, Quarterly Journal of the MLA

"Mathieu is consistently proving himself to be one of the best in musical theory."
— John Coltrane in Downbeat Magazine

"This volume offers experiential keys to help unlock the mystery of how music works its deep affect upon us. Harmonic Experience extends any reader's understanding of music and is a user-friendly, elegant and graceful work. It is a technical treatise about the inner workings of music."
— Daniel Atesh Sonneborn, Smithsonian Institution