Women of Privilege: 100 Years of Love & Loss in a Family of the Hudson River Valley (Paperback)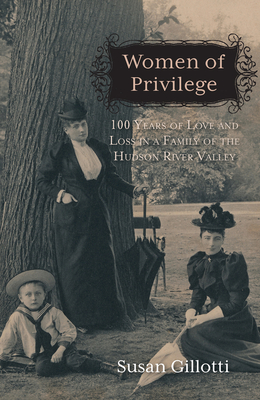 Description
---
Carolyn Heilbrun, in Writing a Woman's Life, said there are far too few books about the real lives of women. Women of Privilege helps to fill that gap.
Susan Gillotti provides us an insight into her ancestors' heretofore secret lives, culled from their private diaries, letters and journals. Up to now, these intimate narratives have been the private thoughts of four generations of women who inhabited Grasmere, one of the great houses of The Hudson River Valley, where they lived among the Delanos, the Vanderbilts and the Roosevelts.
On the surface, their lives seemed ideal, but beneath that facade, there were mental illness, alcoholism, yearning for divorce and questions of sexual identity.
Written by Susan Gillotti, the great-great-granddaughter of Sarah Minerva Schieffelin, this fascinating and revealing book is part biography, part memoir and part social history.
About the Author
---
Susan Gillotti is a Jungian psychotherapist. She grew up in Washington, D.C. and lived in London for many years. She holds degrees from Vassar College and Lesley University, and has published articles in the Journal of Sandplay Therapy. She is co-author of How to Go to Work When Your Husband Is Against It, Your Children Aren't Old Enough, and There's Nothing You Can Do Anyhow. She lives in Norwich, Vermont with her husband, A. F. Gillotti, the novelist.