I Hear the Reaper's Song: A Novel (Hardcover)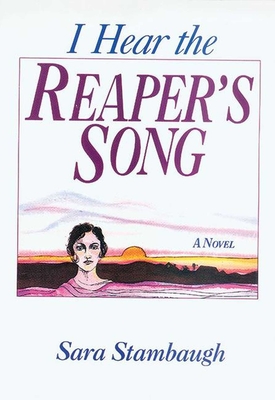 $14.25
This item is not currently available to order.
Description
---
Set in a small Mennonite community in Pennsylvania in 1896, this novel depicts the reaction of the "plain people" to various modern encroachments. Publishers Weekly called it, "A beautifully told lesson for the contemporary reader in how any community adapts to a changing world."

Portrays tragedy and crisis in a small Pennsylvania community in 1896 from the point of view of a 15-year-old Mennonite boy in the whirlpool of his first encounter with death. In the spring of 1896, Silas Hershey was 15. He worked hard six days a week alongside his family in their corn and tobacco fields. On Sundays he gossiped with his cousin Sam, eyeing the girls from a corner of the Paradise Mennonite Church yard, and several evenings a week he drove his sister Barbie and cousin Biney to "special meetings" at nearby churches. Then there were the troubled romances of both Barbie and older brother Hen.

But social and political change was flooding the country, and in Lancaster County, Pennsylvania, the ripples lapped up over the church steps and into the pulpits. The special evening meetings which to Silas and Sam were little more than out-of-the-ordinary social occasions in fact signalled a radical change in Mennonite belief and tradition. All promoted by the "Western preachers," as Silas called them. Events come to a climax one summer Saturday night when Barbie and her young man, Enos Barge, are coming home from a party and a train hits their buggy at a dangerous crossing. The Western preachers capitalize on the incident; neither Barbie nor Enos had yet joined church, and the revivalists point to them as examples of what can happen to those who are not "saved." People convert in flocks. And the Hersheys, to whom Barbie was their light and joy, are left stunned by grief, struggling to keep a shattered family from disintegrating.

Sara Stambaugh tells the story with both sympathy and candor. She also succeeds remarkably well in capturing the point of view, language, and feelings of an adolescent Mennonite boy, caught in the whirlpool of a first encounter with death. Her images evoke a time and place so clearly that the reader can almost smell the arbutus and feel the crackle of ice underfoot.

Skyhorse Publishing, as well as our Arcade, Yucca, and Good Books imprints, are proud to publish a broad range of books for readers interested in fiction—novels, novellas, political and medical thrillers, comedy, satire, historical fiction, romance, erotic and love stories, mystery, classic literature, folklore and mythology, literary classics including Shakespeare, Dumas, Wilde, Cather, and much more. While not every title we publish becomes a New York Times bestseller or a national bestseller, we are committed to books on subjects that are sometimes overlooked and to authors whose work might not otherwise find a home.
About the Author
---
Sara Stambaugh was born in New Holland, Pennsylvania on December 4, 1936. She received her B.A. from Beaver College, and her M.A. and Ph.D. from Minnesota. From 1969 until 1995, she taught in the English Department at the University of Alberta. Ms. Stambaugh is the author of several works of fiction but is best known for her critical analyses of the works of Isak Dinesen entitled Isak Dineson in America and The Witch and the Goddess in the stories of Isak Dinesen: a Feminist Reading. Ms. Stambaugh died in 2002.