Three Mennonite Poets (Paperback)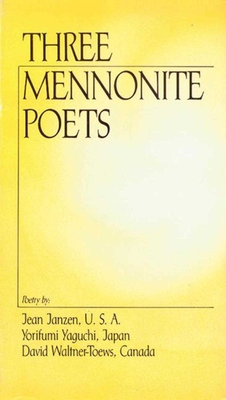 $9.85
This item is not currently available to order.
Description
---
          This well-received collection features three poets who differ widely in culture and style, yet are rooted in common values. Yorifumi Yaguchi is a well-known Japanese poet and professor. Jean Janzen is a Fresno, California, poet whose work has appeared in many literary magazines, and David Waltner-Toews is a Canadian with several books to his credit. Why publish a collection of this sort? Poetry as an artistic endeavor has been scarce among Mennonite people through the centuries. This may be because of their conscious separation from the larger world, or their struggle as an immigrant people, or a general suspicion of the arts held by many members of the groups.           The three poets in this collection are among the finest in the Mennonite peoplehood worldwide, today. The tension between their lives, their particular cultures, and their yearnings has resulted in poetry rich in imagery and full of conviction. What common themes might a woman from California, a man from eastern Canada, and another from Japan express? Perhaps most basic is an honesty, a bare-bones truthfulness, a disdain for pretense that threads through all the poems.           There is also in each a sense of design in which the individual is part of a community -- a family, or a tribe, or a people. The cultivation of that embrace is life; the loss of it is crippling, and sometimes even death. One hears, as well, a wish for peace -- with one's spouse, one's past, with all the "beasts" that beset us, both within and without. These poems reach for justice -- for both children and Grandpas who are victims, for the misunderstood who can't defend their behavior, for those alive only in our memories who can no longer explain their actions.
About the Author
---
Jean Wiebe Janzen was born in Saskatchewan, was raised in the Midwestern United States, and now lives in Fresno, California. She was selected for The Creative Writing Fellowship from the National Endowment for the Arts for her poetry. She completed her undergraduate studies at Fresno Pacific University and received a Master of Arts at California State University of Fresno. Collections of her poetry previously published by Good Books include Snake in the Parsonage (1995), Tasting the Dust (2000), and Piano in the Vineyard (2004). Her verse also has been collected in Words for the Silence (Center for Mennonite Brethren Studies, 1984) and The Upside-Down Tree (Henderson Books, 1992). Janzen's poetry has been published in Poetry, Gettysburg Review, Prairie Schooner, Image, Christian Century, Poetry International, ?The Common Reader, The Great River Review, and Cincinnati Poetry Review. Among the poetry anthologies in which her poems appear are Highway 99: ?A Literary Journey Through California's Great Central Valley (Heyday Books), What Will Suffice: ?Contemporary American Poets on the Art of Poetry (Peregrine Smith Books), and Elements of Faithful Writing (Pandora Press).