Management-Intensive Grazing: The Grassroots of Grass Farming (Paperback)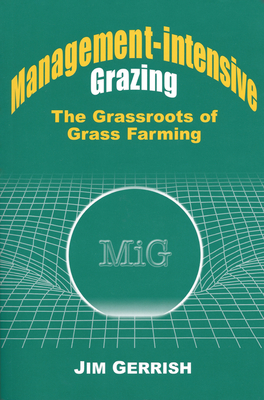 $40.00

Available in our Warehouse: Usually Ships in 3-8 Days
Description
---
"I like to say that when you buy an acre of land you get 43,500 square feet of solar panel. When you start thinking about your farm in these terms, the importance of having every acre covered with green, growing grass becomes apparent," Jim Gerrish writes.
Gerrish coined the phrase Management-intensive Grazing (MiG), putting the emphasis on management of the growth of the grass. The animals are merely harvesters, like lawnmowers. In Management-intensive Grazing, The Grassroots of Grass Farming, he uses vivid images and detailed explanations to take graziers step-by-step through the MiG system.
Written for those new to MiG grazing, Gerrish's insights and personal experience can help experienced graziers fine tune their grazing operations for added income. He begins from the ground up with the soil and advances through the management of pastures and animals, and covers how to manage the water cycle; how to work with legumes; how to stockpile forages for low cost wintering; how to plan and utilize permanent and perimeter fencing; and how to use pasture weaning for health and weight gain.
Gerrish's lively chapters explain how to make pasture fertility pay; the power of stock density; how to match forage supply with animal demand; how to judge maximum intake of forage; and how using pasture records offers information, not just data.