Writing in English: Step by Step: A Systematic Approach to Writing Clear, Coherent, Grammatically Correct Paragraphs for ESL Students and Native English Speakers with Limited Knowledge of English Grammar and Sentence Structure (Paperback)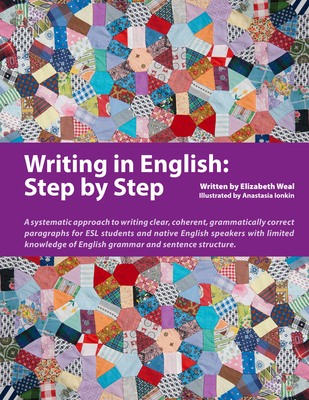 Description
---
This book provides a step-by-step approach to the fundamentals of writing in English for beginning- to low-intermediate-level ESL students from secondary school through adult ed. The book is for students with limited knowledge of English grammar and sentence structure, and it teaches them systematically and methodically to write clear, coherent, grammatically correct paragraphs. It takes the students through the basics differentiating between a word, a sentence, and a paragraph, and it teaches the difference between a paragraph and a list and how to distinguish complete and incomplete sentences.
The following aspects of writing are covered:
- Conventions: punctuation and capitalization
- Fundamentals of a paragraph: topic sentence, supporting information
- Sentence structure: simple, compound, and complex
- Grammar: simple present, present continuous, past, and future tense/aspect constructions and usage; negative sentences; stative verbs; nonreferential there is/there are; frequency adverbs; and adjectives
- Parts of speech
About the Author
---
Elizabeth Weal, author of Writing in English: Step by Step, is an ESL teacher and a committed activist in the English learning community in California. Elizabeth was a founding member and a 9-year board member of Upward Scholars, an organization providing financial, vocational, and academic support to the immigrant community. She has also authored seven ESL books for Pro Lingua Learning.