Actor's Choice: Monologues for Teens, Volume 2 (Paperback)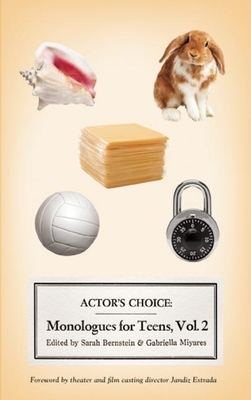 $18.69
Email or call for price.
Description
---
Actor's Choice: Monologues for Teens, Volume 2 continues the Actor's Choice series with a brand-new selection of unique contemporary monologues. From hilarious comedies to moving dramas and everything in-between, this book has you covered. Unlike other monologue books, the source of every monologue is easily accessible -- each play is available through the Playscripts website, where you can read nearly the entire published script online for free. Whether you're looking for a monologue for classwork, competitions, or auditions, you'll be sure to find a perfect fit in this collection. Includes monologues from plays by Alan Haehnel, Alec Volz, Anne Washburn, Anton Dudley, Ariadne Blayde, Bekah Brunstetter, Bobby Keniston, Bonnie Dickinson, Bonnie J. Monte, Brendon Votipka, Charlie Peters, Chisa Hutchinson, Christa Crewdson, CJ Johnson, Courtney Baron, Dan Gordon, David Rush, Don Zolidis, Douglas C. Wager, Emily C. A. Snyder, Eric Simonson, Jane Steiner, Janet Allard, Jon Jory, Jonathan Dorf, Jorge Ignacio Cortinas, Joshua Conkel, Karen Hartman, Katie Henry, Kimberly Lew, Laura Schellhardt, Liz Flahive, Tom Kitt, Lucy Alibar, Luis Alfaro, Marco Ramirez, Marielle Heller, Mark Rigney, Melissa Cooper, Michael Mitnick, Rebecca Schlossberg, Rob Ackerman, Robert Lawson, Robert Pridham, Ron Fitzgerald, Sarah Hammond, Steven Levenson, Tim Kochenderfer, Trista Baldwin and William McNulty.