Flaming Arrows: Collected Writings of Animal Liberation Front Activist Rod Coronado (Paperback)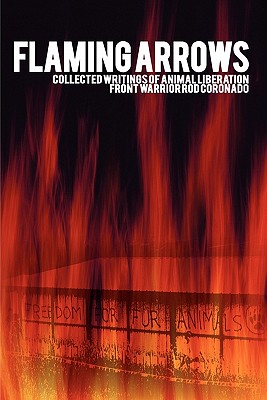 $18.13

Available in our Warehouse: Usually Ships in 3-8 Days
Description
---
Flaming Arrows is a compilation of writings by Rod Coronado, animal liberator and former Animal Liberation Front prisoner. These essays cover Coronado's first-hand accounts of sinking Icelandic whaling vessels, A.L.F. raids on fur farms, and more. This updated edition contains 17 pages of new material not included in the previous printing.
Coronado is perhaps the best known former member of the Animal Liberation Front, jailed for his role in a series of A.L.F. arson attacks against the fur industry.
Flaming Arrows includes:
*First hand accounts of raids on animal research labs
*Animal Liberation Front history
*A detailed narrative on the A.L.F.'s "Operation Bite Back"
*Letters from prison
And much more.
Also included are excerpts from every issue of Strong Hearts, Coronado's jailhouse zine.
In the last 20 years, Rod has been a source of inspiration and strength in the struggle for earth and animal liberation. Rod has served multiple prison terms, including a sentence for A.L.F. arsons. Many have read Rod's writing in publications such as No Compromise, Bite Back, and the Earth First Journal. Coronado's biography "Operation Bite Back" was published in 2009.
Flaming Arrows is a powerful collection of writings from one man who risked it all for animals and the Earth.
"As Earth warriors, we choose to be participants in the ancient battle between good and evil. On our side stand the waters and wind, and all things wild and of the Earth. On the other side, consumed with greed and in persuit of power, control and money, stand all the dark forces that lay waste to Her." - Rod Coronado
" Rod Coronado is] a danger to the community... I know he wasn't tried here for being a violent anarchist. This trial isn't about Rod Coronado being a violent terrorist, but he is one." - Assistant U.S. Attorney Wallace Kleindienst.