Magnificent Minds: Inspiring Women In Science (Hardcover)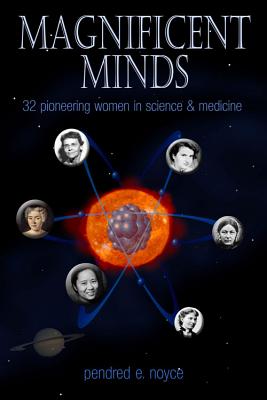 $20.85
This item is not currently available to order.
Description
---
Winner of: National Science Teachers Foundation/Children's Book Council, Outstanding Science Trade Book Award Against all odds…the paths forged by these 16 pioneering women in science are astonishing examples of unparalleled achievement and resilience that wove compelling tales of the women in history's evolving role in society. Here are a few you will meet: - Florence Nightingale as she introduces the use of statistics in public health - Marie Curie who is still the only person to have won the Nobel Prize in both physics and chemistry—and the only winner whose daughter also won a Nobel Prize - Laura Bassi one of the first women ever awarded a doctoral degree in 17th century Italy - Emmy Noether a founder of Abstract Algebra - Grace Hopper who's contributions were fundamental to the development of computing - Gertrude B. Elion who is one of the most prolific inventors of new drugs in the 20th century Full of information about the development of women in science over four centuries, this compelling narrative paints a very clear picture of the systemic bias that is still evidenced in the science world today. Through the triumphs of these remarkable women, you'll find role models and maybe, just
About the Author
---
Penny grew up in Silicon Valley before studying biochemistry at Harvard and medicine at Stanford. She has received recognition and numerous awards for her compelling body of work for young readers, particularly inspiring women in science, including: Magnificent Minds, Remarkable Minds, Inventors, Makers, Barrier Breakers, Mosquitoes Don't Bite Me, Engineering Bridges, Lost in Lexicon, Ice Castle, The Beechwood Flute and several titles in the Galactic Academy of Science (G.A.S.) series. Penny challenges readers to grapple with issues related to women in science, women in history, identity and adolescence, resilience, family, and more. She is a powerful storyteller and an important voice in literature for children, teens & young adults. Penny lives in Boston with her husband and enjoys biking, zip lining, snorkeling, and traveling as much as she can. She has torn both ACLs and broken her collarbone once, all while skiing... but she still skis. Her five children, who all have fascinating and productive lives of their own, come and go.
Praise For…
---
"The exhibition celebrates [women scientists'] accomplishments, and makes it plain that they are all the more extraordinary given the deeply entrenched biases they had to overcome. There were parents who thought it improper or wasteful to educate girls; universities and professional societies that would not admit women; employers who either would not hire them or would not pay a fair wage. But there were also mentors and champions who opened doors and gave credit where it was due." —New York Times review of the Grolier Club exhibition that forms the basis of this book

"The sixteen heroines of these pages dared their way to discovery. In her recounting of their achievements, Pendred Noyce assures the new generation of STEM-empowered girls that women have a history in science as well as a future." —Dava Sobel, author, Longitude, Galileo's Daughter, A More Perfect Heaven

"A wonderful collection of stories . . . The author provided explanation and context of both a scientific and a geopolitical nature. I hope the author will keep the stories coming." —Shirley Malcolm, head of Education and Human Resources, American Association for the Advancement of Science