Seven Suns / Seven Moons (Paperback)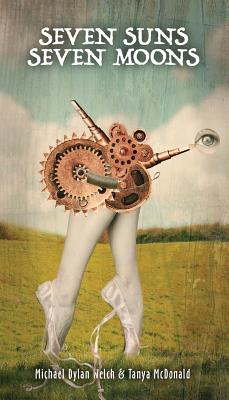 $14.95

Available in our Warehouse: Usually Ships in 3-8 Days
Description
---
Michael Dylan Welch lives in Sammamish, Washington. When he isn't writing, he likes to ski, play racquetball, hike, take photographs, plan outings with his wife and two children, build his music library of great guitar solos, read books, and tend to his website at www.graceguts.com. Michael is especially active with haiku poetry, and he's published his writing and translations in dozens of books and hundreds of journals and anthologies in at least twenty languages, including on the back of 150,000,000 U.S. postage stamps.
Tanya McDonald is known for her love of haiku, chickens, and bird-watching. Fond of wearing bright colors and drinking tea, she lives with her husband and their orange cat in a house full of books in Woodinville, Washington. An active member of Haiku Northwest, she was one of eighteen poets featured in A New Resonance 7, and was one of four featured readers at the twenty-fifth annual Two Autumns haiku reading in San Francisco. When she's not writing haiku, she's busy working on a trio of young adult novels set in the Seattle area.
"Michael Dylan Welch is known for his fresh takes on haiku and readers will be delighted by this new collection, a serendipitous collaboration with Tanya McDonald. For readers of this book, the sun and moon will never be the same--they will become mantras for encountering each day's noteworthy events."
George Swede, cofounder of Haiku Canada and former editor of Frogpond
"The excellence of these poems, together with their engaging arrangement, produces a dazzling reading experience."
James Bertolino, author of Ravenous Bliss: New & Selected Love Poems
"The poems in Seven Suns / Seven Moons range back and forth through daily and surrealistic images, arousing our poetic imagination and showing dynamic new possibilities in haiku."
Toshio Kimura, Head of International Affairs, Modern Haiku Association, Japan, and comparative literature professor at Nihon University, Tokyo