Perpetuating Trouble (Paperback)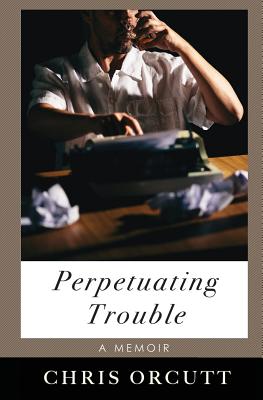 $18.34
Available in our Warehouse: Usually Ships in 3-8 Days
Description
---
Dear Reader...have you ever wished you could earn a living by making stuff up? Have you ever fantasized about living the life of a writer? If so, PERPETUATING TROUBLE is the humorous cautionary tale you need to read."I avoided writers very carefully because they can perpetuate trouble as no one else can," wrote F. Scott Fitzgerald. In this memoir, novelist Chris Orcutt shows how true this is. Debunking the myths, Orcutt reveals that the writing life is really one of crushing solitude, chronic dissatisfaction, mood swings and self-doubt, and where successes, when they come, are like diner mints-sweet, but short-lived. And everyday life is equally stressful, with callous urologists, curmudgeonly painters, flirtatious receptionists, personal feuds and petty thefts. For the writer, all of this leads to one thing-perpetual trouble.Yet, Orcutt's deep love of language, his saintly wife, and his indomitable sense of humor keep him going. Whether picking up two female hitchhikers who later turn out to be aliens from another planet, or divesting himself of a hoard of tacky paintings, or using philosophy to get out of a traffic ticket, Orcutt finds the humor and the art in his trials. It's also a life of love and sadness, as he recounts a whirlwind love affair with a ravishing redhead, and the death of his beloved writing companion, his cat.In the end, Orcutt discovers that to be a writer, he must be part adventurer, crusader, humorist, lover, philosopher, and, of course, troublemaker.PERPETUATING TROUBLE is Orcutt's tenth book, and by far his most personal work to date.
About the Author
---
CHRIS ORCUTT has written professionally for over 20 years as a fiction writer, journalist, scriptwriter, playwright, technical writer and speechwriter. He has also taught high school U.S. history and college writing. At Baruch College, City University of New York, Chris received the Distinguished Teaching Award, and as a newspaper reporter he received a New York Press Association award. Chris is the author of the critically acclaimed Dakota Stevens Mystery Series. The first novel in the series, A REAL PIECE OF WORK, achieved a #1 top-rated ranking in Literary Fiction for Kindle, and #4 in Mystery. IndieReader writes of the novel, "Action, lust, danger, style and witty repartee, Orcutt's A Real Piece of Work is a work of art." The novel received similarly strong critical acclaim from other reviewers, as did the sequel, THE RICH ARE DIFFERENT. The third installment in the series, A TRUTH STRANGER THAN FICTION, debuted on January 1, 2015, and the fourth installment, THE PERFECT TRIPLE THREAT, was published in December of 2016. Although Chris is very proud to have created the Dakota Stevens novels, he considers himself first and foremost a general practitioner in fiction writing, and has written a great deal of non-genre fiction. He has had well over two dozen short stories published in literary journals, and his short fiction has won a few modest awards, most notably 55 Fiction's World's Shortest Stories. Chris's short story collection, THE MAN, THE MYTH, THE LEGEND, was selected by IndieReader as one of the Best Books of 2013. In April 2014, ONE HUNDRED MILES FROM MANHATTAN, a modern pastoral novel in the tradition of Jane Austen and Thomas Hardy, was published. The novel tells the story of Wellington, a fictional wealthy community in Upstate New York, where the village and the surrounding hills conceal tales of love, lust, tragedy and small wars. The novel is ten chapters in length, and each chapter is from a different character's point of view. These characters include a trophy wife, a medical doctor, a single mother, a contractor/local Casanova, and a Manhattan book editor. ONE HUNDRED MILES was selected by IndieReader as a Best Book for 2014, and in a review of the novel Kirkus Reviews favorably compared Chris to Pulitzer Prize-winning author John Cheever. For more about Chris, visit his website: www.orcutt.net. For more about the Dakota Stevens Mysteries Series, visit www.orcutt.net OR www.dakotapi.com.
We appreciate your continued support!
If you would like to make a donation to help us through CLICK HERE.