Live a Beautiful Life with Lupus: Habits and Rituals for Thriving with an Autoimmune Disease--Body, Mind, and Spirit (Paperback)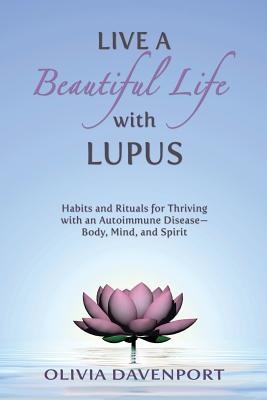 $10.95

Available in our Warehouse: Usually Ships in 3-8 Days
Description
---
Can you live a beautiful life while living with Lupus?
Incurable and unpredictable, Systemic Lupus Erythematosus, or Lupus, is an autoimmune disease known for its difficulty to treat and its penchant for disrupting lives. A Lupus patient can be stable one day and suffering in the hospital from a full-blown "flare" of the disease the next. For the over 1.5 million Americans living with the disease, the toll it takes is enormous. Living a life filled with fear, uncertainty, and strong medications, finding peace in this all-too-often stormy life with Lupus can be daunting--even in the mildest of cases. But with the habits and rituals of the Live a Beautiful Life with Lupus framework, a path to a better quality of life is possible.
Developed by Olivia Davenport, a Lupus patient herself, this book was borne out of years of debilitating episodes of illness and medical emergencies. In her desperation to find a way to truly live, she researched, queried, and conferred with her doctors and other practitioners to develop a systematic way to take care of herself holistically--body, mind, and spirit. Her approach is the reason she can say, "Yes, you can live a beautiful life with Lupus "
Live a Beautiful Life with Lupus book will teach you ways to:
Soothe your Lupus body--with the goal of minimizing Lupus flares and unexpected medical episodes.
Strengthen your Lupus mind--in order to manage the neuropsychiatric, mental, and emotional effects of the disease.
Nurture your Lupus spirit-- to find meaning, hope, comfort, and inner peace by reconnecting with the energizing life force that transcends the body and mind.
Track your life with Lupus for yourself and your doctors holistically with the new Lupus Diary. Available as a fillable pdf or for printing and filling out on paper.
Explore many resources available to Lupus patients, and more.
Author, blogger, and former overachiever Olivia Davenport wants to spread the news that you can live a beautiful life with Lupus. After her Lupus diagnosis in 2012, she began a journey of research and self-discovery, to determine the habits and rituals to support her goal of not losing herself to the incurable disease.
With her two blogs, LiveaBeautifulLifewithLupus.com and LupusDiary.com, Olivia finds joy in sharing what she's learned with practical tools, actionable steps, and inspirational insights.