Missouri State Parks: Discover All 92 Parks, Second Edition (Paperback)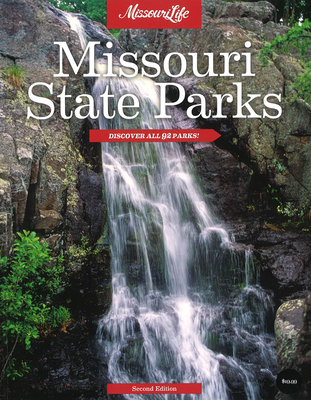 $19.99
This item is not currently available to order.
Description
---
Missouri's identity has long been tied to its role as a crossroads, a land--sometimes a battleground--where east met west, and south confronted north. This borderland character has produced extraordinary personalities and enduring human stories. The same crossroads geography also shapes the rolling plains of the north and west, through the ancient wooded Ozark hills and hollows to the broad alluvial delta of the deep southeast, and along the corridors of the continent's two mightiest rivers.

The state's remarkable diversity of people and resources comes alive in this updated second edition of this guide that explores all there is to see and do in our superb state park system. Taum Sauk, Onondaga, and Ha Ha Tonka are here, all about Ozark mountains, caves, and springs. Mastodon State Historic Site, saved only by the refusal of four housewives to take "no" for an answer, revealed the first proof of humans in contact with mastodons 12,000 years ago, while Watkins Mill showcases a farm that added a factory and became a National Historic Landmark.

Big Lake, Big Oak Tree, and Confluence ponder the lessons of our restless big rivers, while Pershing Park in the north and Prairie in the southwest exhibit fascinating stories of landscape restored by park staff. More than a score of historic sites honor consequential Missourians--Osage Village and Towosahgy, but also Harry S. Truman, Mark Twain, and Scott Joplin. Other parks and sites preserve Civil War battlefields, bridges, mills, mines, reservoirs, and trails, each with a powerful story to tell.

Short essays for each of Missouri's parks and historic sites treat them with insight into each place's main attractions and what makes them special, and beautiful color photographs illuminate each place. Whether packed in your backpack or resting on your nightstand, this volume will serve as a comprehensive guide to Missouri's park system.

Missouri has one of the best state park systems in the country, and this guide is the most up-to-date you will find on our state parks. Most of all, we offer this guide to readers in Missouri everywhere as an evergreen source of inspiration to get out and explore the Show-Me-State's great outdoors and historic sites. We invite you to discover the best of Missouri!
About the Author
---
Missouri Life Magazine is a lifestyle magazine devoted to enhancing the experiences of those living in or traveling to the state of Missouri. Included in the magazine are in-depth reviews of the state's restaurants and bars, information on travel destinations across the state, and articles on local cultural and historical topics.