Google SEO for Bloggers: Easy Search Engine Optimization and Website marketing for Google Love (Paperback)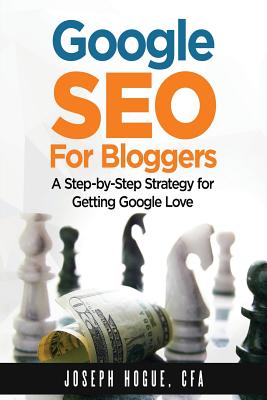 $9.18
This item is not currently available to order.
Description
---
The Step-by-Step SEO Process I used to Rank More than 1,700 Keywords on the First Page of Google Search Want to know the secret to being successful as a blogger or in any business? Find out the part of the business that other entrepreneurs avoid and become a Rockstar to jump ahead of the competition.
Asking other bloggers about their strategies to rank on Google, I was amazed to hear from nearly everyone that they really hadn't paid much attention to search engine optimization (SEO). Despite the fact that most depend on Google search for 60% or more of their blog traffic.
It's the kind of aha moment you get that rockets your business into the stratosphere How I put together a Google SEO process to triple my search traffic
I determined to learn everything I could about Google SEO and getting on the first page of the world's largest search engine. I read all the SEO books and everything I could find about link building and website marketing. I put together an seo process for every post I wrote and the results were astounding.
I tripled my Google search traffic over the next year and doubled my monthly blogging income. Best yet, using it frequently means I've perfected the process and now it takes very little time to rank a post on Google. While other bloggers waste their time with social media and begging their friends, I use this seo strategy and link building process for instant Google love every time.
8 SEO Strategies for Eye-Popping Search TrafficDon't fool yourself. You aren't going to rank on Google with just any disorganized collection of SEO tricks from those other seo books. The top spot in Google search gets nearly a third of the clicks and competition is intense.
Getting to #1 and staying there means you'll need to implement a complete process of on-page and off-page SEO that blows everyone else away
I'm sharing my entire process to rank posts on Google, from how to find the keywords you can actually rank to the secret that triples my traffic and makes more money on each post. If you are serious about boosting your blog traffic, I mean really serious about learning how to make a blog rock and ready to do what other bloggers avoid, then don't miss your chance at this Google SEO process.
It's time to get the Google love you deserve. Let's Do This
In this book you'll learn:
Why most bloggers don't make money from Google search traffic and how to get the right visitors. (pg. 7)
126 easy links you can get that boost traffic and search rankings. (pg. 47)
How to tell if you can rank on Google's first page before you waste your time. (pg. 10)
The one SEO trick that nearly triples my traffic. (pg. 79)
What to do once you reach the first page of Google and how to stay there (pg. 86)
If you are serious about driving massive Google search traffic to your website, scroll back up and click buy now.
About the Author
---
Joseph Hogue, CFA Born and raised in Iowa, I graduated from Iowa State University after serving in the Marine Corps. I worked in corporate finance and real estate before starting a career in investment analysis. Working in the corporate world, I realized there was something missing in the 9-to-5 rat race. I was making lots of money but hated my job and realized...who wants to be rich when they're old if they spent a third of their life miserable. I now run six websites and love my work-at-home life. How much I make and my work life is completely up to me. I no longer worry about saving for retirement because I can't imagine ever doing anything else. My Work from Home Money is your source for work at home ideas and strategies. Financial freedom isn't about having lots of money, it's about making money doing the things you enjoy...and that's exactly what this blog will help you do. I've spent years working freelance, blogging and searching for different ways to make money. I've made more than my share of mistakes and seen more scams than I can count. I've also created my dream job and make more than I ever did in the rat-race. This isn't about not working. I don't promise you a 4-Hour Work Week. What I do promise is that you'll find something you enjoy doing, that you'll find the way to make money doing it, and that you will be in control of your own financial future for the first time in your life.