Digital Transformation: Evolving a digitally enabled Nigerian Public Service (Hardcover)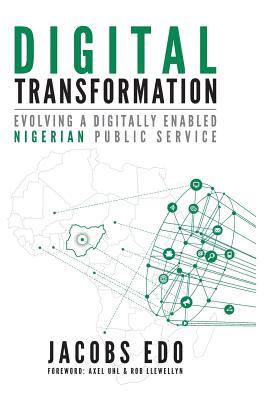 $59.99

Available in our Warehouse: Usually Ships in 3-8 Days
Description
---
Digitalization is here to stay.
Digitalization is placing unprecedented pressure on organisations and government institutions to evolve. At the present rate, 75% of the S&P 500 incumbents would be gone by 2027. That means managing our collective transition to a digitally-driven business model is vital and crucial to our quest for a prosperous nation. And since digital touches so many parts of our lives, society and development, any significant reform program requires coordination of people, processes, and technologies. This transition toward a successful value delivery needs new skills, a holistic vision on growth trends and challenges, and a seamless collaboration between technology and governance.
This book therefore defines, justifies and outlines the urgent steps needed for digital transformation in the Nigerian public service. At the heart of this clarion call is the on-going civil service reform, a process which has yet to formulate and implement a comprehensive as well as an integrated strategy to digitise public infrastructure and services - a matter which should be of national urgency.
The Nigerian public wants quality services to be delivered faster, better, greener, cheaper, more integrated and more ecologically friendly. Nigeria's dependence on ever-fluctuating oil prices, which are today near their lowest in recent national economic history, entails that these improvements must be delivered at a lower cost than ever before. This means that the drive for greater efficiency must be relentless, and productivity must continue to improve. Public sector productivity has often been static (and sometimes regressive) whilst the private sector has grown year after year. The need for efficiency and economic sustainability implies that government work, wherever possible, must become digitally enabled and integrated within its numerous Ministries, Departments and Agencies (MDAs).
Around the world, governments are embracing digital transformation through digital service enablement. Government digital service is becoming the norm and is central to technology adoption in the public service globally. It is also true that wealthy nations are exploring the possibility of using blockchain technology that underpins the bitcoin crypto-currency to increase efficiency in the delivery of high quality and trust-based services. According to the Greeks, "A society grows great when old men plant trees whose shade they know they shall never sit in." Nigerian government leaders are therefore invited to consider seriously digitising their public services as detailed in this book.