Air to Ground 2020: A Guide for Pilots to the world of Air Traffic Control (Paperback)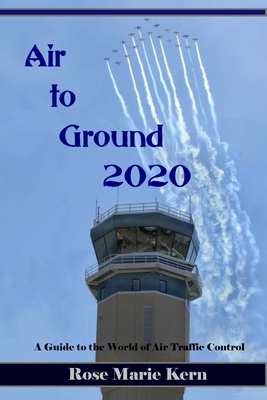 $22.94

Available in our Warehouse: Usually Ships in 3-8 Days
Description
---
An Air Traffic Control specialist for over 34 years, first with the Federal Government and more lately with
Lockheed Martin, Rose Marie Kern writes articles for 17 different aviation magazines and newsletters and is a popular speaker for pilot associations in the southwest. Air to Ground 2020, gives pilots a glimpse into the cold corridors of Air Traffic, and allows them insights into the people who work in an environment so critical to their own. This revised edition reviews the FAA's NextGen program which bases aircraft surveillance and control procedures on Satellite versus Radar monitoring.
Rose's book, Air to Ground 2020 is based on articles she writes for aviation magazines which is useful to both student pilots and aviators who have long enjoyed soaring along highways in the sky. She shares both practical and humorous insights as well as glimpses into the bigger picture of Air Traffic Control.
At this time the only real information the pilot has about air traffic comes in the form of government directives and orders, written in stilted language that tells the pilot what he has to do, but not why. They do not tell the pilot how their actions are welded into a pattern that affects all the other pilots.
Intermingled with the technical information are stories and snippets of humor collected over the last 34 years.
These little bits exemplify what happens in the Air Traffic workplace when the microphone is not keyed, humanizing
the disembodied voices the pilots hear.
"Air to Ground" is a phrase used to describe the frequencies used by the pilots when they speak to Air Traffic.
The book, Air to Ground 2020, appeals to pilots, airport managers and the air traffic personnel who work in the U.S. and will greatly enhance the pilot's understanding of the National Airspace System, its procedures, and the people whose job it is to provide for the safe and efficient flow of Air Traffic.
The book includes information on:
Overview and History of the Air Traffic Control System
The NextGen Initiative
Flight Service Stations (FSS)
Air Traffic Control Towers (ATCT)
Departure and Approach Control
Enroute Air Traffic Control Centers (ARTCC)
DataComm
ADS-B and its relationship to VFR Search and Rescue
TFR's, Charts, and STMP information
ICAO Flight Plans
Reference Pages
Although there are a few books that talk about Air Traffic on the market, no other book approaches the pilot from this perspective, it fills a vacancy long overlooked.