The Ultimate Costa Rica Cookbook: Healthy, Quick, & Easy Meals (Paperback)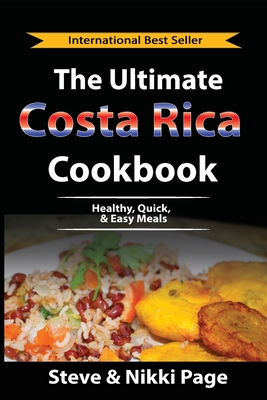 $32.50

Available in our Warehouse: Usually Ships in 3-8 Days
Description
---
How the heck do you cook in this country? #1 International Best-Selling Authors have done it again.
In this follow-up to their, "Cut The Crap & Move To Costa Rica", Steve Page and his wife Nikki share more about Central America. Learn how to cook exotic foods with recipes that are quick, easy, and delicious in this #1 International Best-Selling Cookbook.
Many people reached out to us asking how we cooked the local meals in Costa Rica. We heard you and went to work with the locals and even the doctors to provide a variety of simple recipes that are affordable and, in most cases, good for your health. Don't get us wrong, we like our fats and sweets as much as anyone; however, we have learned that we feel better and eat cheaper when we prepare healthy meals and snacks. A few "not so healthy" recipes are included as well, to help satisfy those cravings from time to time.
Learn about the fruits and vegetables that people from other regions have never seen and have no idea how to prepare.
What is that?
What does it taste like?
How do I eat it?
We inform you about the common produce you can find at the farmers' markets, fruit stands, and supermarkets.
Plus, bonus top kitchen items and what is worth suitcase space.
Includes useful:
Easy To Follow Recipes
Health Information
Cost of Ingredients
Shopping Tips
Insights from Experts
Originally published as, "Cut The Crap Kitchen: How-To Cook On A Budget In Costa Rica".
Go up and click Read Now or Buy Now for some good eats.