Introduction to C++ (Paperback)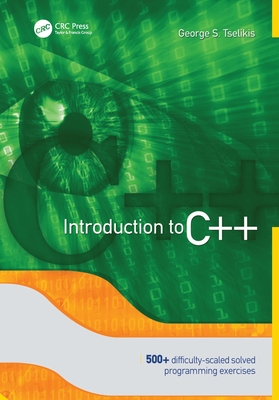 $69.93
This item is not currently available to order.
Description
---
This book is primarily for students who are taking a course on the C++ language, for those who wish to self-study the C++ language, and for programmers who have experience with C and want to advance to C++. It could also prove useful to instructors of the C++ course who are looking for explanatory programming examples to add in their lectures. The focus of this book is to provide a solid introduction to the C++ language and programming knowledge through a large number of practical examples and meaningful advice. It includes more than 500 exercises and examples of progressive difficulty to aid the reader in understanding the C++ principles and to see how concepts can materialize in code.
The examples are designed to be short, concrete, and substantial, quickly giving the reader the ability to understand how to apply correctly and efficiently the features of the C++ language and to get a solid programming know-how. Rest assured that if you are able to understand this book's examples and solve the exercises, you can safely go on to edit larger programs, you will be able to develop your own applications, and you will have certainly established a solid fundamental conceptual and practical background to expand your knowledge and skills.
About the Author
---
Dr. George S. Tselikis received both his Dipl.-Ing. degree and his PhD from the School of Electrical and Computer Engineering of National Technical University of Athens (NTUA). In 1998, he joined the Department of Electrical Engineering at Columbia University, New York, and worked as a postdoc research associate. He was a founding member of 4Plus S.A. (1999-2014), where he worked in the development of network protocols and services. He has a long working experience in the telecom area, and his main research interests focus on software specification, development, and testing of network protocols and services in wired and wireless networks. He has participated in many European research projects and he has collaborated with several companies in the telecom industry. Since 2004, he has been a visiting lecturer in several Greek universities teaching courses related to network technologies, protocols and communications, and programming languages.