A Short Guide to Spiritual Disciplines: How to Become a Healthy Christian (Hardcover)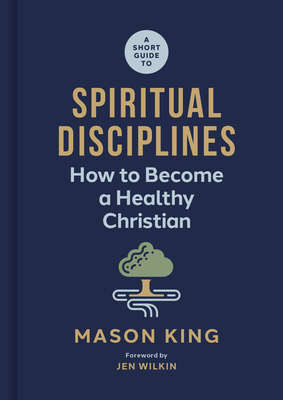 $14.99

Available in our Warehouse: Usually Ships in 3-8 Days
Description
---
Every Christian wants to grow into the person God made him to be. Every Christian has a healthier, more spiritually mature version of herself in mind. Every Christian looks upon the future's horizon and imagines a relationship with God ever-increasing in vibrancy and strength. 

But how does a Christian get there? How does a sapling with good intentions actually become an oak of righteousness?

You might think the answer is "regularly read the Bible, pray often, and share the gospel consistently." And those practices are certainly part of it. But in this book, Mason King expands your thinking beyond basic spiritual practices (which typically emphasize what you must do) into a more holistic picture of what a full and flourishing life with God can look like when it is cultivated well (focusing instead on who you might become).

In these pages, learn how you can become a vibrant, healthy Christian by regularly offering to God three main dimensions of your life—your attention, your emotions, and your limits—for when you are disciplined in cultivating these environments at the root, you will grow into the right kind of tree. 
About the Author
---
Mason King serves as a pastor at The Village Church in Flower Mound, Texas. He also serves as the Executive Director of The Village Church Institute, Groups, and Leadership Development. He is currently completing a Ph.D. in Church History from Southwestern Baptist Theological Seminary, and holds a  D.Min. in Executive Leadership from The Southern Baptist Theological Seminary. A native Texan, Mason and his wife Carly have three kids and two labs.
Praise For…
---
"In A Short Guide to Spiritual Disciplines, Mason King gives us an important vision for spiritual maturity. It's not check-list Christianity that can often feel like we live compartmentalized Christian lives. Instead, King points to an entire life that is spiritually-disciplined - a life of becoming the person God has made us to be. And yet, he grounds the spiritually disciplined life and its practices in the overflowing generosity and grace of Jesus, whose yoke really is easy, and whose burden really is light—even when pursuing a spiritually disciplined life."  
—Tony Merida, PhD  
Pastor, Imago Dei Church, Raleigh, NC

"When I first began reading works on spiritual formation, I sometimes felt frustrated at the lack of a clear presentation of the gospel and of Christ's finished work on the cross, and what sometimes felt like a doctrine of 'Work harder, do better.' Mason King has delivered the book I wanted to read all along. This is a book deeply undergirded by the truth of God's enduring love for humanity as both the starting place and the vehicle upon which our spiritual growth moves. There is no 'try harder' in this book, only "drink deeper and be filled by the love of God."  
—Lore Ferguson Wilbert 
Author of A Curious Faith and Handle with Care 

"So many of us are hungry for wholeness, looking everywhere for identity, purpose, and belonging. With pastoral wisdom that is astute and gentle, Mason shows how the path to the life we desire is not hidden but available to all. Yet, he does this by calling us to move away from the dead-end of instant gratification and onto the path of "patient persistence," cultivating the daily discipline of spiritual transformation. If you want help pushing past the formation obstacles of our cultural moment to become your true self in Christ, this book is for you!" 
—Elizabeth Woodson 
Bible Teacher & Author