Mediterranean Diet Slow Cooker Book: Crock Pot Diet Cookbook with the Best Mediterranean Recipes for Beginners. (+ Healthy and Easy 7-Days Mediterrane (Paperback)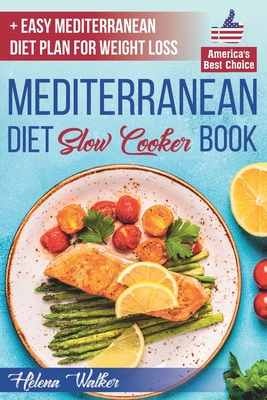 Description
---
Discover a reliable way to lose weight and improve your health with our simple Mediterranean diet recipes for your slow cooker
Do you want to become healthier, slimmer and energized?
This book is written to help you improve your health and lose weight.The Mediterranean diet
is one of the most attractive and popular diets in the world. Fill your life with the taste of Mediterranean diet food
After reading this
Mediterranean Diet Slow Cooker Book
, you will learn:
About the health benefits of the Mediterranean diet.
About Mediterranean diet foods and how to start the Mediterranean diet using your slow cooker.
How to lose weight with the 7-day Mediterranean diet meal plan.
The reasons to buy this book:
This cookbook contains 100 delicious, proven and simple Mediterranean diet recipes for slow cooking.
You will get really healthy recipes that use only natural products without preserves or canned food.
All recipes contain available ingredients. They are easy to follow and suitable for everyday menus.
All recipes have clear and well-defined instructions.
With our 7-day Mediterranean diet meal plan, you can easily lose weight in just one week.
This book will give you a natural weight loss method and help you to lead a healthy lifestyle.
**Filled With Pictures and Nutritional Info**
Scroll up and click "BUY NOW with 1-Click" to download your copy now
*You can also buy a full-color or black and white paper version of this book. Just click "See all formats" section to choose your version.
Tags: mediterranean crock pot, mediterranean slow cooker cookbook, mediterranean diet crock pot, mediterranean diet crock pot meals, crock pot diet meals, cabbage soup crock pot diet, slow cooker diet recipes, slow cooker diet, mediterranean diet plan