Nicest Mean in Laws Ever: Funny Novelty Office Notebook. Daughters in Law Gifts (Paperback)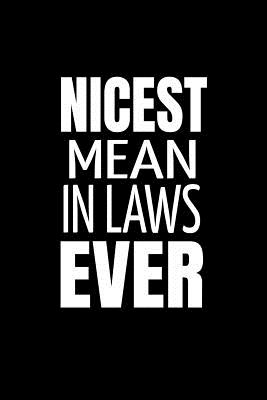 $8.04
This item is not currently available to order.
Description
---
This is great as a journal or notebook perfect for you to write your own thoughts, Get a little creative and write down lists or ideas at work or the Office. It is a 120 pages blank ruled ready for you to fill with your own writing and get a little creative every now and then. It can be used as a journal, notebook or just a composition book. 6" x 9" Paperback notebook, softcover. Perfect for gel pen, ink or pencils. Great size to carry everywhere in your bag, for work, office or back to school. This makes a Funny Mother's day gift, Father's day gift. Perfect for the office secret Santa, valentines of Holiday gift Translation to Spanish - Traduccion al Espa olEste es un gran Journal o libreta, perfecta para escribir tus pensamientos, Vu lvete creativo y salo para escribir una lista de ideas en el trabajo o la oficina. Tiene 120 P ginas de Rayas listas para ti y que las llenes con tu creatividad de vez en cuando. Puede ser usada como Libreta, Journal o Libro de Composici n. 6" x 9" pulgadas de tama o, capa blanda. Perfecta para l usar con lapicero de tinta, pluma o l piz. Conveniente tama o para llevar en tu bolsa al trabajo, la oficina o de regreso a clases. Es un regalo gracioso de dia de las Madres, dia del Padre. Perfecto para el secret Santa de la oficina, San Valent n o Regalo de fiestas.