Art on the Edge of the Boreal Forest: Alternative Futures for the trees, birds and insects (Paperback)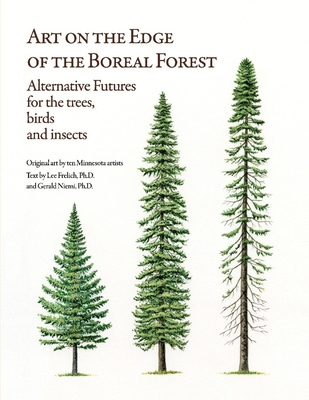 Description
---
Beginning in 2010, a group of Minnesota botanical artists applied their skills and knowledge to create a visual archival record of Minnesota's threatened boreal forest. This collection is important because the ecology of the boreal forest is undergoing slow and silent but significant change due to disturbances caused by fire, invasive insects and stressful climate conditions. Lee Frelich, Ph.D., director of the Center for Forest Ecology consulted with the artists to identify the trees and understory plants at risk in Minnesota's boreal forest. Frelich identified 10 trees most at risk in northeastern Minnesota are the iconic Balsam Fir, White Spruce, and Balsam Poplar followed by Red Pine, Black Spruce, Jack Pine, then Quaking Aspen, Tamarack, Paper Birch and possibly Black Ash.
In 2011 two more distinguished consultants joined the project: Gerald J. Niemi, Ph.D. and Professor Emeritus in the Department of Biology, University of Minnesota-Duluth, and Jana Albers, DNR Forest Health Specialist. Niemi prepared a list of boreal forest birds and birds that will migrate north, and Albers a list of native and exotic insects associated with the boreal forest, and the collection expanded to include them.
The project started with artists researching their subjects in books, online and in the forests of Minnesota. The forests included the Northshore of Lake Superior, Itasca and William O'Brian State parks, the University of Minnesota's Landscape Arboretum and Sigurd Olson's "Listening Point" near Ely to study and sketch the trees and understory plants. This book catalogs 83 of the original renderings of trees, birds and insects.
About the Author
---
Director of the University of Minnesota Center for Forest Ecology. He
received a Ph.D. in Forest Ecology from the University of Wisconsin-Madison in 1986.
Frelich has authored more than 188 publications with 265 coauthors from 23 countries,
including major works for Cambridge University Press and Oxford University Press. He
is listed among the top 1% of all scientists in the world in the Ecology and Environment
category by the Web of Science. His research has been featured in the news media 500 times,
including such venues as The New York Times, Newsweek and Washington Post. Frelich has
provided consulting services on forest management for the U.S. Army, Air Force, National
Forest Service, and National Park Service. Current research interests include large-scale fire
and wind, earthworm invasion, and climate change in temperate and boreal forests. A retired Professor Emeritus at the University of Minnesota-Duluth
(UM-D). He was formerly Professor of Biology and Director of the Center for Water and
the Environment at the Natural Resources Research Institute at UM-D. He received his
Ph.D. in Biology at Florida State University in 1983 and was a Fulbright scholar in Finland
in 1981. He has published over 160 peer-reviewed papers and over 130 technical reports and
popular articles. His research has focused on birds, Great Lakes ecosystems, conservation,
climate change, ecotoxicology, and the sustainability in the use of natural resources. Vicki Barth, Wendy Brockman, Marj Davis, Kathleen Franzen, Nancy Gehrig, Debra Greenblatt, Julie Martinez, Mary Anne O'Malley, Kathi Reeves, Bruce Wilson.