Every Human Intention: Japan in the New Century (Hardcover)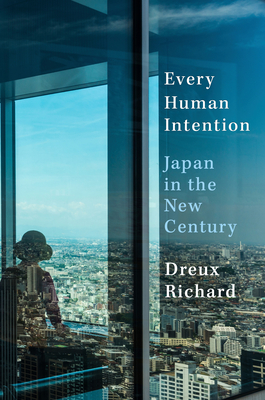 Description
---
A thoughtful, illuminating exploration of modern Japanese politics and culture through the eyes of an investigative reporter
 
Dreux Richard presents post-Fukushima Japan in three illustrative parts. He follows members of Japan's Nigerian community, whose struggles with a hostile immigration system lead to the death of a Nigerian immigrant in a Japanese detention center, investigated here for the first time. In Japan's northernmost city, Richard goes door to door with the region's youngest census employee, meeting the city's elderly residents and documenting the stories that comprise the nation's record-breaking population decline. Finally, he takes us into the offices of energy executives and nuclear regulators, as they fight to determine whether reactors threatened by earthquake faults will be permitted to restart after the Fukushima disaster, a conflict that brings the entire regulatory system to the brink of collapse.
 
Six years in the making, Richard's perceptive and probing account establishes him as an authority on his subjects, but he remains aware of his status as an outsider and interpreter for his readers. His long-term engagement with the personal lives of his sources revives the expatriate literary tradition of Lafcadio Hearn and Donald Richie, bringing its best qualities into a century where forensic investigation of wrongdoing and compassionate observation of its consequences are equally crucial. Through an exceptional range of approaches to an exceptionally complex society, Every Human Intention provides an understanding of today's Japan that goes far beyond politics, truisms, and sensational arguments.
About the Author
---
DREUX RICHARD is an American writer, journalist, and literary translator. From 2011 to 2016 he covered Japan's African community for The Japan Times, where he also led a yearlong investigation of the "world's safest" nuclear plant. His writing has appeared in CounterPunch, The New York Times, and Estadão, among other publications. He is a doctorate-by-research candidate at the University of Otago and divides his time between Massachusetts and Abia State, Nigeria.
Praise For…
---
"Dreux Richard's Japan is instantly grim, yet always worthy of love. Possibly the last great work of expatriate writing from Japan. There will never be a book like this again."—Geraldine Harcourt, translator of Territory of Light by Tsushima Yuko

"Every Human Intention is an absolute marvel, revealing the inner workings of modern-day Japan like no other work of literary nonfiction I have ever read. And it does so three different times: with immigration, elder care, and nuclear energy—in each case giving us the inside dope with the smooth story-telling expertise of a novelist. Every Human Intention has something to teach us all, whether an old Japan hand like me, or someone who has never set foot in the place."—Richard Wiley, author of Soldiers in Hiding and Commodore Perry's Minstrel Show

"Dreux Richard's rendering of contemporary Japan is full of universal resonances, particularly the pain and difficulty experienced by those who hope to belong. With nuances and subtleties, this book confronts major contemporary issues: migration and loss, international marriage and parenthood, nostalgia for a lost homeland, and the xenophobia endured by those who go in search of a home their heart can recognize. A moving and enlightening read."—Ha Jin, author of The Banished Immortal

"Every Human Intention is an immensely eloquent and absorbing work. Dreux Richard writes with striking clarity and insight through vast landscapes—from towns in rural Japan to trade hubs in Nigeria. His wide embrace, allowing his subjects their full and complex humanity, is what I found most moving and extraordinary."—Jowhor Ile, author of And After Many Days

"Three unlikely neighbors are drawn together from Japan's sprawling hinterland in Dreux Richard's bold new book. Patient, sympathetic observation rendered in Richard's sure hand guides us through the small triumphs, thwarted hopes, tragic defeats of lives governed more-and-less visibly by immigration policy, the census, and the post-Fukushima nuclear regulatory regime. Richard mobilizes the fruits of remarkable research into the geological, political, and judicial dimensions of nuclear restart into breathtaking drama, such that only as an aftershock do we register the terrifying consequentiality of bureaucratic contingency—reigning over the best of intentions."—Norma Field, author of In the Realm of a Dying Emperor

"Richard admires 'border-crossing writers' who engage in a narrative style he likens to 'an illicit act of fence hopping'. What could fit that description better than a book that seeks to weave a story of modern Japan from the strands of Nigerian immigration, population decline and nuclear catastrophe? Japan is a much stranger and more unsettling place than many observers grasp. Richard sets out, with a reporter's notebook and novelist's eye, to discover a different kind of truth about one of the most fascinating and bewildering countries on earth."—David Pilling, author of The Growth Delusion

"Dreux Richard's Every Human Intention is a compelling study of contemporary Japan, based on fact but written with the elegance and eye for detail of fiction. As a keen witness and analyst, Richard uses characters and case studies to bring the reader important news from his years as an American reporter in Japan, someone gifted in eliciting innumerable otherwise hidden truths. He has a great gift for revealing the poetry in people, letting them tell the stories that have shaped their lives and will shape Japan's future. As a result, Every Human Intention is a book you almost hear whispering in your ear as you read it, telling you that this really is Japan right now and these are the people caught up in the complexity of the Japanese experience. Every Human Intention is vivid and captivating—a wonderfully written and powerful study of a fascinating country."—Robert Earle, diplomat and author of Iraq: Nights in the Pink Motel and North American Identities: Search for Community

"Dreux Richard's Every Human Intention is a remarkable work of literary non-fiction. The author combines a journalist's eye for detail, a scholar's commitment to meticulous research and a poet's love of language with the empathy of a trusted friend to enable everyday people to tell of their lives enmeshed in three of the major challenges facing post-Fukushima Japan: immigration, population decline, and nuclear power. Every Human Intention has expanded my world. Most importantly, the crises investigated by Dreux Richard are not unique to Japan. Immigration, ageing populations and the need to fuel our unsustainable lifestyles are worldwide issues. Every Human Intention is a grim reminder of the urgent need to address these issues. I cannot recommend it too highly."—Lynley Hood, author of A City Possessed

"A fascinating read for those of us who want to better understand modern Japan. Richard tells the stories of the often-overlooked humans behind sensationalist headlines about Japan's immigration and asylum system, rapidly aging population, and nuclear energy industry. Each narrative is told with both facts and empathy, keeping the reader hooked until the very end."—Grace Mineta, author of My Life in Japan

"A work of truly original writing about Japan, a country that quietly offers the world some of its most intriguing visions of the future. Richard seamlessly interweaves reportage and the surreal, as though writing from another time whose time has come again."—J.B. MacKinnon, author of The Once and Future World

"Keenly observed . . . Richard illustrates the complexities of a nation . . . The book shines in its poignant profiles of elderly Japanese people in the "second-class city" of Wakkanai . . . Full of rich detail and nuanced insights."—Publishers Weekly

"Penetrating . . . An eye-opening, unique look at a bleak set of circumstances in a troubled nation."—Kirkus Reviews

"Richard presents a rich array of voices . . . Intriguing . . . I happily followed Mr. Richard as he described life in a declining peripheral port, or in the Nigerian diaspora, or as a scientist called upon to make post-Fukushima Japan safe again [and] there is drama in Mr. Richard's telling."—Wall Street Journal

"This book is a deeply reported, beautifully written account of Japan's struggles with modernity as seen through the eyes of everyday people, notably a Nigerian immigrant, the citizens of a depopulated, fading town, and the contenders in an enervating battle over nuclear power. The three sections of the book are distinct, yet together they dovetail to reveal a country and people in transition as demography, democracy, and globalization force change. The author paints vivid images of a census taker, a small town mayor, a nuclear engineer, a rest-home aide, and dozens more. The prevailing tone is both elegiac and ultramodern, not unlike Donald Richie's masterpiece, 'The Inland Sea'; but where Richie captured Japan on the brink of its leap into economic hyperdrive, Richard describes the society's wrenching demographic and economic downshift. In this book, Dreux Richard establishes himself as an emerging talent in the grand tradition of literary journalism--a compassionate observer and a gifted reporter. I'll be eager to follow his writing wherever it leads next."—Jonathan Rauch, author of The Constitution of Knowledge