My Wicked Wicked Ways: Poems (Vintage Contemporaries) (Paperback)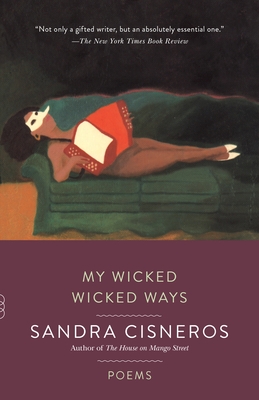 $15.95
This item is not currently available to order.
Description
---
In this beautiful collection of poems, remarkable for their plainspoken radiance, the bestselling author of The House on Mango Street and winner of the 2019 PEN/Nabokov Award for Achievement in International Literature embraces her first passion-verse.

With lines both comic and sad, Sandra Cisneros deftly-and dazzlingly-explores the human experience. For those familiar with Cisneros only from her acclaimed fiction, My Wicked Wicked Ways presents her in an entirely new light. And for readers everywhere, here is a showcase of one of our most powerful writers at her lyrical best.

"Here the young voice of Esperanza of The House on Mango Street merges with that of the grown woman/poet. My Wicked Wicked Ways is a kind of international graffiti, where the poet—bold and insistent—puts her mark on those traveled places on the map and in the heart." —Cherríe Moraga
About the Author
---
Sandra Cisneros is a poet, short story writer, novelist and essayist whose work explores the lives of the working-class. Her numerous awards include NEA fellowships in both poetry and fiction, the Texas Medal of the Arts, a MacArthur Fellowship, several honorary doctorates and national and international book awards, including Chicago's Fifth Star Award, the PEN Center USA Literary Award, and the National Medal of the Arts awarded to her by President Obama in 2016. Most recently, she received the Ford Foundation's Art of Change Fellowship, was recognized among The Frederick Douglass 200, and was awarded the PEN/Nabokov Award for Achievement in International Literature.

Her classic, coming-of-age novel, The House on Mango Street, has sold over six million copies, has been translated into over twenty languages, and is required reading in elementary, high school, and universities across the nation.

In addition to her writing, Cisneros has fostered the careers of many aspiring and emerging writers through two non-profits she founded: the Macondo Foundation and the Alfredo Cisneros del Moral Foundation. She is also the organizer of Los MacArturos, Latino MacArthur fellows who are community activists. Her literary papers are preserved in Texas at the Wittliff Collections at Texas State University. 

Sandra Cisneros is a dual citizen of the United States and Mexico and earns her living by her pen. She currently lives in San Miguel de Allende.
Praise For…
---
"Not only a gifted writer, but an absolutely essential one." —The New York Times Book Review

"All poets would do well to follow the example of Sandra Cisneros, who takes no prisoners and has not made a single compromise in her language." — Barbara Kingsolver, Los Angeles Times
 
"Cisneros is a writer for all people." —USA Today

"Here the young voice of Esperanza of The House on Mango Street merges with that of the grown woman/poet. My Wicked Wicked Ways is a kind of international graffiti, where the poet—bold and insistent—puts her mark on those traveled places on the map and in the heart." —Cherríe Moraga
 
"A writer of power and eloquence and great lyrical beauty." —The Washington Post Book World
 
"[Cisneros'] work is sensitive, alert, nuanceful. It is rich with music and picture." — Gwendolyn Brooks