Do This for Me: A Novel (Hardcover)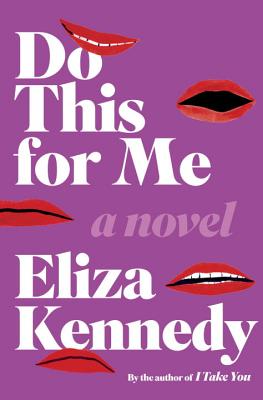 Description
---
A high-powered attorney dives into the politics of sex, the perils of desire, and why men and women treat each other the way they do. 

Raney Moore has it all figured out. An ambitious young partner at a prestigious Manhattan law firm, she's got a dream job, a loving (and famous) husband, and amazing twin daughters. Her world is full, busy, perfectly scripted. Or so she thinks.

One sunny fall day, a bombshell phone call throws Raney's well-ordered existence into chaos, and in a fit of rage, she diabolically, hilariously burns everything down. Once the flames subside, she finds herself asking some difficult questions: Who am I? What just happened? Am I ever going to find my way back to normal?  Assisted by enterprising paralegals, flirtatious clientele, one dear friend and an unforgettable therapist, Raney thinks the answers are close at hand, only to find life spiraling utterly out of control.

Uproarious, incisive and poignant, Do This For Me introduces a brilliant, off-kilter heroine on a quest to understand sex, fight workplace inequality, and solve the mystery of herself.
About the Author
---
ELIZA KENNEDY attended the University of Iowa and Harvard Law School, where she was an editor of the Harvard Law Review. After graduation she served as a law clerk for a federal judge, then practiced litigation for several years at a prestigious Manhattan law firm. She lives in New York with her husband and son. This is her second novel.
Praise For…
---
Praise for Do This For Me:

"Fun... Kennedy has a gift for snappy dialogue."
— New York Times Book Review

"[A] deliciously over-the-top divorce tale."
— EW.com

"Do This For Me is so alive and so boisterous that the characters just about bounce off the page."
— MarieClaire.com

"A fast-paced, outrageously fun pleasure of a book. Bring it to the beach this Memorial Day."
—Refinery29

"Do This for Me is the juicy summer read you need in your beach bag." 
— HelloGiggles

"A delicious, new beach read... add this bitterly funny novel to the growing stack of summer reads."
— ETonline.com

"An amusing tale of love and revenge."
— Toronto Star

"In this new novel, Raney Moore thinks she has reached the pinnacle of her life—but one upsetting phone call will throw her entire world into chaos. Burning everything down in the wake of disaster, she is forced to rethink what she's always thought was a successful existence."
— Parade

"A sharp take on sexual politics, Do This for Me is about an ambitious NYC lawyer whose seemingly perfect life abruptly crumbles when she discovers her husband's infidelity."
— PureWow

"Amusing, clever and thoughtful, Do This for Me is an excellent novel."
— Shelf Awareness

"Kennedy tackles gender relations at home and in the workplace in this frank, compulsively readable examination of how one woman balances her exploration of her sexual identity with her career and motherhood."
—Booklist
 
"An uproarious, sometimes salacious, and always entertaining quick summer read."
—Library Journal

"Raney Moore is living her dream life. That is, until she finds out her famous husband, Aaron, cheated on her. After she gets her ruthless revenge, the couple gives the relationship another go—leading to a whirlwind of confusing questions and emotions. Raney is a formidable female character who defies norms and illuminatestimely women's issue." 
—Chronogram


Select Praise for I Take You by Eliza Kennedy:

"A salty, lively first novel... crackling, bawdy, and modern."
— New York Times Book Review 

"This debut novel's take on modern gender roles is aggressively provocative... It's also funny and, eventually, wise."
—People

"It's the smartest, sexiest, funniest (like, hilarious) beach read on the shelves right now."
—Huffington Post 

"Saucy, sexy and funny as hell…Eliza Kennedy's debut novel will have you blushing, laughing and loving the lavish antics of our new favorite protagonist." 
—USA Today

"[Kennedy's] snappy comedy of mis-manners delights in subverting expectation... I Take You, as salty-sweet as a margarita, will appeal to fans of Seating Arrangements, Where'd You Go, Bernadette."  
—NPR.org
We appreciate your continued support!
If you would like to make a donation to help us through CLICK HERE.