The Map of Knowledge: A Thousand-Year History of How Classical Ideas Were Lost and Found (Paperback)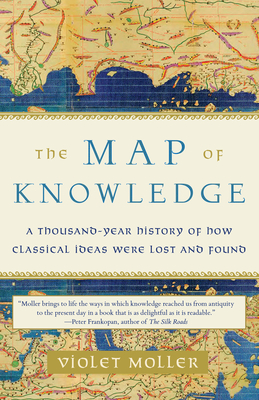 Staff Reviews
---
In recent scholarship, the term "The Dark Ages" has been proven archaic, and this book confirms it. Through the histories of seven cities, Moller traces the distribution of knowledge throughout the Middle Ages, showing that the period was actually full of discovery, especially in the East (another boon in an often Western-centric field). As a medieval studies major, I found this study fascinating. The trajectory of the book is well thought-out and serves the research well. An essential for history buffs.
— Luisa
Description
---
After the fall of Rome, as civilizations collapsed and libraries burned, ancient knowledge that would eventually fuel the Renaissance was at risk of being lost. This thrilling history tracks three crucial books as they were passed hand to hand through seven cities during a perilous thousand-year journey of survival. After the great library at Alexandria was destroyed, Baghdad, Cordoba, Toledo, Salerno, and Palermo were rare outposts of knowledge in a dark world, where dedicated scholars collected, translated, and shared texts. Violet Moller's The Map of Knowledge takes us into the sparkling intellectual life that flourished there, highlighting the crucial role played by Arab scholars in improving the cornerstone ideas of Western thought. She shows us how foundational works on math, astronomy, and medicine by Euclid, Ptolemy, and Galen eventually reached Venice, the major center of scientific printing, where their legacy was assured—having been rescued by the passionate curiosity of generations of readers.
About the Author
---
VIOLET MOLLER is a historian and writer based near Oxford, England. She received a PhD in intellectual history from Edinburgh University, where she wrote her dissertation on the library of a sixteenth century scholar. She has written three pop reference books for the publishing arm of the Bodleian Library. The Map of Knowledge is her first narrative history.
Praise For…
---
"Moller brings to life the ways in which knowledge reached us from antiquity to the present day in a book that is as delightful as it is readable." —Peter Frankopan, author of The Silk Roads

"Superb. . . . Ambitious but concise, deeply researched but elegantly written, and very entertaining, The Map of Knowledge is popular intellectual history at its best." —The Telegraph (UK)

"An endlessly fascinating book, rich in detail, capacious and humane in vision." —Stephen Greenblatt, author of Swerve: How the World Became Modern
 
"The reader is invited to marvel at how multicultural the ancient world was, and to consider how the foundational knowledge of the Western world . . . was painstakingly preserved, analyzed, and innovated upon for almost 1,000 years." —The Washington Post

"Fascinating. . . . A picturesque tour of a series of fabulously wealthy civilizations. . . . Moller brings the wonders of the medieval Muslim empires vividly to life and you're left yearning for more." —The Times (London)
 
"Unusual and well-crafted. . . . An impressive, wide-ranging examination of what might be called premodern intellectual and cultural geography." —Publishers Weekly
 
"An epic treasure hunt into the highways and byways of stored knowledge across faiths and continents." —John Agard, poet and judge, Royal Society of Literature 2016 Jerwood Award 
We appreciate your continued support!
If you would like to make a donation to help us through CLICK HERE.