How To Cook Everything Vegetarian: Completely Revised Tenth Anniversary Edition (How to Cook Everything Series #3) (Hardcover)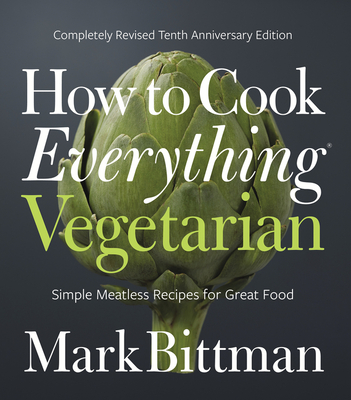 Other Books in Series
This is book number 3 in the How to Cook Everything Series series.
Staff Reviews
---
Not a vegetarian? No worries. New York Times best-selling author Mark Bittman has crafted an excellent foundational cookbook for all humans who enjoy preparing delicious food. There are lots of great variations on recipes and tips throughout, and the photography and illustrations are stellar. Whenever I make something from HTCEV, I always feel like a friend is chatting in the kitchen with me. My favorite recipe is Roasted Quinoa with Potatoes and Cheese. If you're thinking, I don't really like quinoa, I hear you—and neither do I.
— Lori
Description
---
The ultimate guide to meatless meals, completely updated and better than ever, now for the first time featuring color photos

Ten years ago, this breakthrough cookbook made vegetarian cooking accessible to everyone. Today, the issues surrounding a plant-based diet—health, sustainability, and ethics—continue to resonate with more and more Americans, whether or not they're fully vegetarian. This new edition has been completely reviewed and revised to stay relevant to today's cooks: New recipes include more vegan options and a brand-new chapter on smoothies, teas, and more. Charts, variations, and other key information have been updated. And, new for this edition, the recipes are showcased in bright full-color photos throughout. With these photos and a host of recipes destined to become new favorites, this already classic vegetarian cookbook will continue to be more indispensable than ever.
About the Author
---
MARK BITTMAN is the author of more than thirty books, including the How to Cook Everything series and the #1 New York Times bestseller VB6: Eat Vegan Before 6:00 to Lose Weight and Restore Your Health . . . for Good. He was a food columnist, opinion columnist, and the lead magazine food writer at the New York Times, where he started writing in 1984 and remained for more than thirty years.
 
Bittman has starred in four television series, including Showtime's Emmy-winning Years of Living Dangerously. He is a longtime Today regular and has made hundreds of television, radio, and podcast appearances, including on Jimmy Kimmel Live!, Real Time with Bill Maher, and CBS's The Dish; and on NPR's All Things Considered, Fresh Air, and Morning Edition.
 
Bittman has written for countless publications and spoken at dozens of universities and conferences; his 2007 TED talk "What's wrong with what we eat?" has almost five million views. He was a distinguished fellow at the University of California, Berkeley, and a fellow at the Union of Concerned Scientists. He has received six James Beard Awards, four IACP Awards, and numerous other honors.
 
Bittman is currently special advisor on food policy at Columbia University's Mailman School of Public Health, where he teaches and hosts a lecture series. He is also the editor in chief of Heated. His most recent book is his history of food and humanity, Animal, Vegetable, Junk.
Praise For…
---
"Mark Bittman is an excellent and accessible food writer, and an incredible resource when it comes to food policy and how our food system works. How to Cook Everything Vegetarian has earned its place on the bookshelf of cookbook classics." -ALICE WATERS, chef, author, activist, and founder of Chez Panisse "For almost a decade, How to Cook Everything Vegetarian has been my go-to guide for meatless cooking. Mark's approach is bold, accessible, of-the-moment, and beyond compare. And with each recipe, I can almost see Mark joking, shopping, whispering about beans, whole grains, and local vegetables, and begging us to join him on yet another delicious culinary adventure." -JESSICA KOSLOW, chef and owner of Sqirl and author of Everything I Want to Eat "Mark Bittman is the ultimate tour guide when it comes to vast subjects and a need for reassurance in the kitchen, and this tome about vegetarian cooking is no exception!" -YOTAM OTTOLENGHI, author of Jerusalem, Plenty, and Sweet "When Mark Bittman published How to Cook Everything Vegetarian in 2007 he gave me and my health-conscious friends a book that we all desperately needed. Fast-forward to today, when more and more people are considering the impact of what they eat, and this brilliantly updated edition takes on heightened importance for home cooks." -BRYANT TERRY, James Beard Foundation Leadership Award recipient and author of Afro-Vegan "Bittman's evenhanded tone and his ability to cover a gamut of recipes, from crudités to fluffy vegan frosting made with coconut milk, render this book as relevant today as it was when it first appeared, and confirm its status as an indispensable resource." - Publisher's Weekly  "Dated recipes and chapters have been overhauled or swapped for new ones, with full-color photographs appearing throughout. There are hundreds of versatile dishes (e.g., dumplings, everyday buttermilk waffles, curried stir-fried potatoes, BBQ jackfruit sandwiches) and indispensable tips—enough to keep readers engrossed for years." - Lisa Campbell, Library Journal  —