Social Media Optimization for Dummies (Paperback)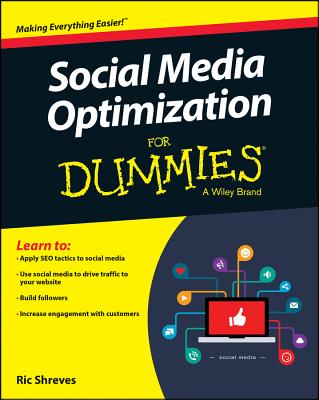 $29.69
This item is not currently available to order.
Description
---
Optimize, optimize, optimize to get the most out of your company's social media presence
As it turns out, social media is good for a lot more than funny cat videos, memes, and sharing what you're eating for lunch with the world. As the social media sphere continues to grow and be redefined, it's more important than ever to arm yourself with the latest information on how you can use it to drive traffic to your website, raise awareness of your brand, and promote your products or services. If you're a marketer who has asked yourself how you can possibly stay afloat in these newly chartered and oft overcrowded waters, Social Media Optimization For Dummies serves as your roadmap to smart marketing in the digital age.
So, what is Social Media Optimization (SMO), exactly? Well, it's comprised of two closely related practices. First, SMO refers to a set of techniques in which social media is used to drive traffic to a website and create an interest in a product or service. Second, SMO concerns the optimization of the social media presence itself with the goal of building followers, increasing engagement, and, again, generating interest in a product or service. Each of these parts supports the other and, when the channels are managed efficiently, enhances the other's effectiveness. In this plain English, easy-to-follow guide, you'll quickly discover how to apply SMO practices to your marketing plan to accomplish those goals.
Integrate social media into your website
Drive traffic to your website
Build followers and generate a buzz
Increase engagement with customers
From integrating social media into your website to building your social media presence to everything in between, Social Media Optimization For Dummies points your business toward success.
About the Author
---
Ric Shreves has been building websites since 1995 and creating digital marketing campaigns for almost as long. He is a former columnist for ComputerWorld magazine and has built websites for some of the world's largest brands, including BASF, Colgate-Palmolive, and Tesco. Michelle Krasniak is a freelance copywriter and marketing consultant who specializes in content marketing. She has been writing professionally for over 15 years and has a passion for helping businesses of all sizes develop content to maximize their social media presence.