Instagram for Business for Dummies (Paperback)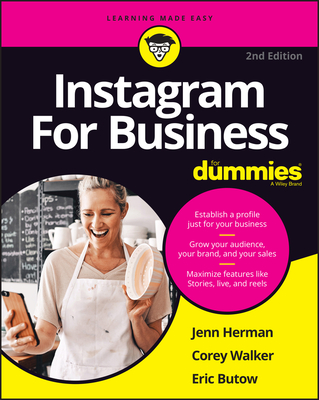 Description
---
Put your best brand story in front of 1+ billion users
One of the most energetically social of the major social media platforms, Instagram has the highest brand engagement rate of them all. Throw in the app's more than 1 billion active monthly users and its powerful business tools--including shoppable posts, devoted business profiles, and advanced analytics--and you have an unmissable opportunity to tell a gripping story that bonds you with your customers and makes your business an integral part of their social media lives.
The latest edition of Instagram For Business For Dummies puts you in the picture on how to showcase your product, craft your narrative, and gather insight into how your customers experience and react to your business. Presented in straightforward, practical language by three Instagram and marketing gurus, you'll swiftly go from setting up your account and profile to applying strategies for writing winning captions and creating content that deliver super-engaged customers.
Set up your account, profile, and analytics
Upload content and get smart with IG Stories and live video
Build and target paid advertising
Master the art of the hashtag
Whatever your current Instagram skill-level, there's always somewhere new to take you're the story of your business--and there's no better way to begin a gripping new chapter in that story than with this book.
About the Author
---
Jenn Herman is a social media consultant, speaker, and globally recognized Instagram expert. Eric Butow is the owner of Butow Communications Group and the author of 30+ tech and computing books. Corey Walker is a marketing strategist and owner of The Marketing Specialist.