Guitar Theory for Dummies with Online Practice (Paperback)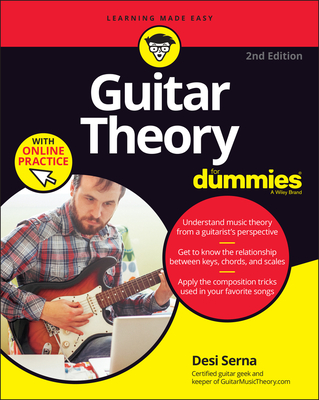 Description
---
Make your guitar sing with insight on music theory brings your instrument to life
There's a universe of incredible music living in your guitar. You just need to discover how to let it out. In Guitar Theory For Dummies, expert guitarist and instructor Desi Serna walks you through the music theory concepts you need to understand to expand your musical horizons. From deciphering the mysteries of the fretboard to adapting chord progressions to a song's key, you'll master techniques that will help you move past simple, three-chord songs to more complex and creative pieces.
Build on your existing knowledge of open and barre chords and simple progressions with practical instruction that demystifies scales and chord voicings and shows you how to bring them together to create impressive music. You can also jump over to dummies.com to hear audio samples of the examples featured in the book.
You'll also learn:
How chords, keys, and scales are built and how they interact with one another
Powerful concepts, like intervals, chord extensions, modes and modal scales, that grant access to a world of musical possibilities
How popular songs apply elements of guitar theory and how you can apply the same techniques
Free yourself from the confines of tab sheets and simple chords and start enjoying all the musical potential of your guitar. Guitar Theory For Dummies is for anyone who wants to unlock the next stage of their musical journey.
About the Author
---
Desi Serna is a music instructor, author, and podcaster hailed as a "music theory expert" by Rolling Stone magazine. He is the author of several guitar instructional videos and books, including Guitar Rhythm & Technique For Dummies. Known for his hands-on approach to music theory and his emphasis on popular music, Desi offers video instruction for beginner through advanced players at his GuitarMusicTheory.com website.