Flipping Houses for Dummies (Paperback)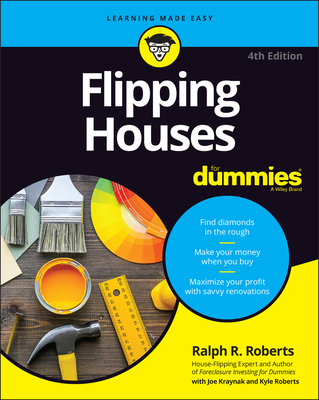 $24.99

Available in our Warehouse: Usually Ships in 3-8 Days
Description
---
Go head-over-heels for house flipping
Flipping houses profitably may not be easy, but it's far from impossible. With the right guide, you can avoid the risks and reap the rewards like a seasoned expert. Flipping Houses For Dummies is that guide.
The perfect blueprint to property resale, this book walks you through the absolute necessities of house flipping. You'll learn how to confirm that you have enough time, energy, cash, and resources to be successful. You'll also get an inside look at the house flipping process that'll show you how to minimize risk and maximize profit in a highly competitive market.
Flipping Houses For Dummies offers:
Proven negotiating techniques to close real estate deals faster
House flipping laws and regulations for every state in the union
Strategies to successfully complete a big renovation, on-time and on-budget
House flipping tips for both investors and contractors
Comprehensive content on hiring and working with reputable contractors
So, if you're ready to start revitalizing your community by turning neglected properties into prize homes, Flipping Houses For Dummies is the first and last resource you'll need to navigate your way around the exciting and challenging world of real estate investment.
About the Author
---
Ralph R. Roberts is a real estate expert, investor, and author. He has sold over 10,000 homes, and focuses on affordable housing. He wants to help everyone become a homeowner! Ralph is the author of the previous edition of Foreclosure Investing For Dummies, as well as many other publications.