101 Answers for New Teachers and Their Mentors: Effective Teaching Tips for Daily Classroom Use (Paperback)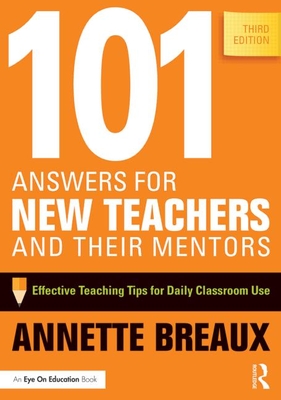 $41.93

Available in our Warehouse: Usually Ships in 3-8 Days
Description
---
Now in its third edition, this bestseller has remained popular, relevant, and a must-read for new teachers, mentors, administrators, and staff development professionals. Appropriate for individual or collaborative study, this book provides simple, practical solutions to the challenges experienced by both new and veteran teachers, including:
- managing the classroom;
- handling discipline problems;
- dealing with challenging students, coworkers, and parents;
- planning lessons effectively and managing time wisely;
- accommodating individual differences in students;
- getting students excited about learning;
- and much, much more.
In this new edition, you'll find advice on incorporating technology into your lessons and using social media to connect with others. You'll also find new Ask Yourself questions (following each of the 101 Answers) and Chapter Highlights to help you apply the ideas in your own classroom. These resources are available in the book and on our website for easy download.
Though written for new teachers, the book's practical, easy-to-implement strategies will appeal to teachers of any grade level, subject area, or level of expertise, as well as to mentors, induction coordinators, or anyone seeking to find answers to classroom challenges and improve teaching skills.
About the Author
---
Annette Breaux is one of the most entertaining and informative authors and speakers in education today. She leaves her audiences with practical techniques to implement in their classrooms immediately. Administrators agree they see results from teachers the next day.A former classroom teacher, curriculum coordinator, and teacher induction coordinator, she was also the author of Louisiana FIRST, a statewide induction program for new teachers. Annette has also co-authored books with two of education's greats - Harry Wong and Todd Whitaker.Her other writings include: REAL Teachers, REAL Challenges, REAL Solutions; Seven Simple Secrets: What the BEST Teachers Know and Do; 50 Ways to Improve Student Behavior: Simple Solutions to Complex Challenges, Making Good Teachers Great: Everyday Strategies for Teaching with Impact and 101 Poems for Teachers.Teachers who have read Annette's writings or heard her speak agree that they come away with user-friendly information, heartfelt inspiration, and a much-needed reminder that theirs is the noblest of all professions.